Former President Kuffour Urged ARAP To Revolutionize Rice Farming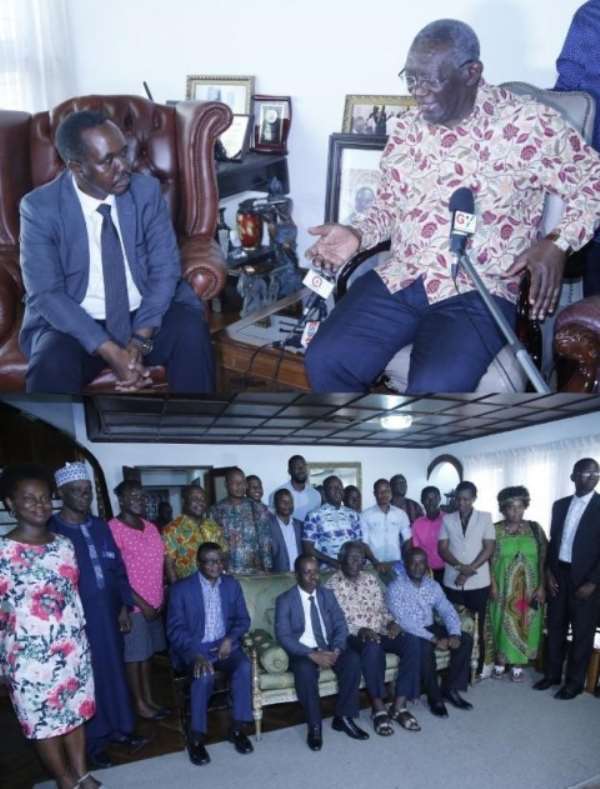 Former President John Agyekum Kufuor has entreated the leadership of the Africa Rice Advocacy Platform (ARAP) to lead the way in enhancing the production of quality and nutritious rice to impact positively on the economic development of the Continent.
Members of ARAP, after a two-day learning event in Accra, paid a courtesy call on the former President, who happens to be the mastermind of the formation of the group through his JAK foundation, in conjunction with the Competitive Africa Rice Initiative (CARI).
Former President Kuffour highlighted the significance of ARAP in spearheading the revolution in rice production on the continent to help curb the increasing importation of rice to Africa.
''Africa is undergoing transformation and perhaps the most basic of all the aspects of our continental life is agriculture. The world is currently engaged in sustainable development goals and one of the principles of the goals is to eradicate hunger.
''Rice is becoming perhaps the most common staple in this dramatic change, and if that is the case, it's just right and proper that, there should be a leadership like yours, so that across the continent, we can focus on growing rice and it should be nutritious rice.'
'We should use science and technology in developing the value chain of rice production and when we succeed in this, we would appreciate its impact on the economic development of the continent.
President Kuffour bemoaned the billions of dollars spent on the importation of rice, which the continent can ill afford and reiterated the need for agriculture inputs being made available to facilitate the production of quality rice.
Acting ARAP Chair, Mr. Julius Wambura, appreciated the support from the former President, as the Platform remains poised to improve the production of quality rice and create a larger market for our famers.
He said ARAP had been established at the right time and have a responsibility to convince governments to put in place policies to protect the local markets and help boost trade among Africa countries.
The two-day learning event saw representatives of 11 countries engaging in various discussions to address challenges and execute strategies that will boost the production and trading of rice, as well as engaging more countries to help create a bigger and unique platform.
GNA