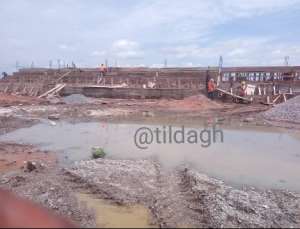 Contractors working on the Youth Resource Center for the people of the Volta region seem to be running behind time for the nine month deadline promised for the completion of the project.
The project construction which is in its seventh month is steadily progressing.
A visit to the site showed how work is ongoing at a snail pace due to the challenges of the frequent, spontaneous downpour.
The current situation could extend the date scheduled for the completion of the project.
Project manager for the Youth Resource Center, Mr. Akpih Williams is uncertain the facility would be ready by December as promised.
"The rain has been our challenge, the ground is such that when it rains no vehicles come in which means no work goes on".
"Because of the water on the ground and rain challenges, the facility might be ready after February" He said.
Work is currently underway for a 5000 seater instead of a 10,000 seater edifice was promised by the Minister for Youth and Sports, Isaac Asiamah at the anxiety of the chiefs and people from the region led by Chief of Ho Dome, Togbe Adzie Lakle Howusu XII, Warlord of the Asogli state, who represented Togbe Afede XIV, Agbogbomefia of Asogli at the sod cutting ceremony in March this year.
Mr. Akpih who admitted to the promise made, said the firm in charge of the facility has not officially received a paper work towards a 10,000 seater multipurpose Youth Resource Center hence work, for a 5000 seater.
The facility is a 10,000 seater multipurpose edifice but work is currently underway for a 5,000 sitting capacity.
"It was promised but there is no paper work confirming it.
"For the 5000, it has being confirmed in the contract"
"That (the 10,000 seater) has to be confirmed and issued on a contract bases"
"When it comes we will make provision for the 10,000 by enlarging the stands" Mr. Akpih said.
The youth Resource Center which is being executed by Wilkado constructions is estimated at USD 2.4 Million.
The facility when completed would accommodate a FIFA standard football pitch, an eight lane Athletic track, a Handball, Basketball, Volleyball, Table Tennis courts and a Gymnasium, the facility will also have an ICT Center, a Modern Restaurant, an Entrepreneurship and Counseling center.
The Youth Resource Center in the Volta region was the first to be initiated, similar projects are underway in the remaining nine regions of Ghana.