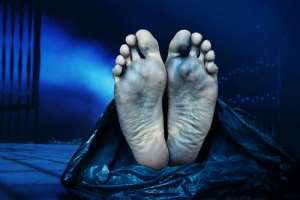 A MAN, who is believed to be 36 years old, is in police grips after he had lied about the circumstances that led to the death of his wife.
Abdul Haruna, the suspect, who stays at Techiman in the Brong Ahafo Region, attempted to seek treatment for his sick wife in a church at Mamponteng.
He could not readily get access to the pastor of that supposed church and so his sick wife, who had been afflicted with a strange disease for a while, gave up the ghost.
Not knowing what to do with the corpse, Haruna, who was with his child, took the wife's body and dumped it in front of a mosque at Adabraka near Mamponteng.
Some Muslims at Adrabraka, who were visiting the mosque to pray on Monday dawn, were horrified as they spotted a dead body in front of the mosque.
The Muslims also saw Haruna and his child standing a bit close to where the dead body was laid and so they quickly confronted him.
One Sheikh Abdul Razak, who was present, became suspicious when Haruna said his wife died whilst receiving treatment at Fawade Hospital.
Sheikh Abdul Razak, who is aware that there is no such hospital at Fawade as Haruna claimed, realized that Haruna was telling a lie, for which reason he called for his arrest.
The body of the deceased woman had since been deposited at the Ankaase Faith Healing Mortuary, where autopsy is expected to be performed on the body.
The police are still investigating the case to determine whether Haruna had a hand in the passing of his wife or not.