Opinion: Should We Roll Out Red Carpet For Gays And Lesbians?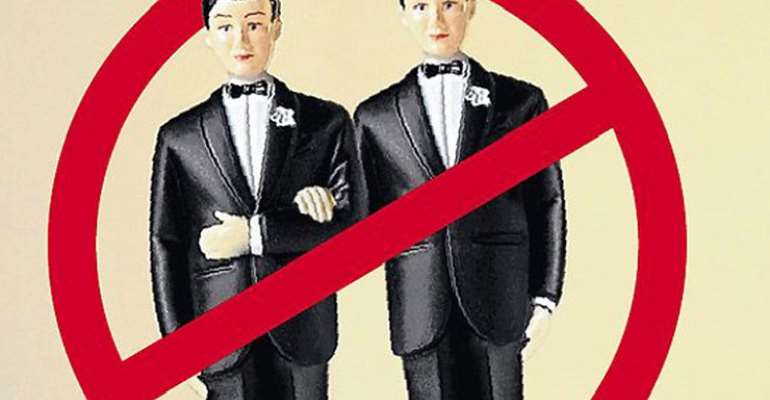 By Francis Owusu-Ansah .
Discrimination and violence on people, on the basis of their gender identity and sexual orientation, is one of the major issues attracting the attention of human rights organisations worldwide.
Some people, who either identify themselves, or are perceived by others as homosexuals, bisexuals or transgenders, most of the time fail to achieve social acceptance, and thus have to face a number of problems and difficulties.
Some of them have to suffer grave human rights violations such as sexual abuse, rape, torture, humiliation, extra-judicial killings, ill-treatment, arbitrary detention, denial of education and employment opportunities, and so on.
In many countries, being homosexual or having any other sexual orientation than the socially accepted norm is regarded as a punishable criminal offense. However, despite their sexual orientation, the fact that they are human beings, and thus deserve all the basic human rights, needs to be highlighted.
Until today, there is international human rights legislation dealing specifically with the rights of homosexuals, bisexuals, and transgenders.
However, section 4 of the International Covenant on Civil and Political Rights, adopted by the General Assembly of the United Nations in 1966, deals with human rights and discrimination on the basis of sexual orientation or gender identity.
Moreover, there are some other international legislation as well which have sections, though not specifically assigned to homosexuals, bisexuals, and transgenders, include them along with the others.
Over the past decade, lesbian, gay, bisexual, and transgender (LGBT) people have made significant legal and political gains in the United States and other countries, including the freedom to marry.
Despite this progress, federal law does not expressly prohibit discrimination based on sexual orientation and gender identity in fields like employment, housing, and access to services, and fewer than half of the states offer explicit protections for LGBT people at the state level.
Without these protections, LGBT people across the United States lack clear recourse and redress when they are fired, evicted, or refused service because of their sexual orientation or gender identity.
Against this backdrop of legal vulnerability, lawmakers who oppose marriage for same-sex couples, and recent moves to advance transgender equality, have led an anti-LGBT charge pushing for, and often succeeding in getting, new laws that carve out religious exemptions for individuals who claim that compliance with particular laws interferes with their religious or moral beliefs.
In June 2018, the Ghana Pentecostal and Charismatic Council (GPCC) embarked on a national prayer crusade opposing same-sex marriage in Ghana
The three days prayer event raised the consciousness of public opinion about grave social choices of Gay, Lesbian, Bisexual and Transgender (LGBT) rights in Ghana.
The General Secretary of the Ghana Pentecostal and Charismatic Council, Rev. Emmanuel T. Barrigah, has said homosexuality is demonic, thus it is about time Christians prayed ceaselessly for God to intervene.
The Pentecostal and Charismatic Council believes the pressure from Western countries to get Ghana and other African countries to embrace same-sex marriages is part of a bigger scheme to dominate the continent.
The GPCC says even the European Court on Human Rights recently ruled unanimously against LGBT rights, so they will not allow any person to mislead the country.
According to the GPCC, though they will show love to gays and lesbians, they won't support its legalisation.
STAND OF SPEAKER OF PARLIAMENT
A strong believer in conservatism, the Ghana's Speaker of Parliament, who has built a sterling 26-year political career, is prepared to watch it crumble over gay rights.
One pro-liberal piece of legislation where a man is allowed to stick his manhood will be all that it takes to walk away from his 17,000 plus salary.
"If anybody should bring such a thing in Parliament, I would rather resign than subscribe to this delusion," Professor Mike Oquaye insists.
The Professor, who is a proud Baptist Minister, says gays rights is a very hypothetical situation.
The government, the singular author of legislation for parliamentary debate, has stressed that gay rights discussion is off the table.
The government has said, at least twice, that it will not consider pro-LGBT laws after the President, Nana Akufo-Addo, broke his silence in an Aljazeera interview that 'it is bound to happen'.
That observation on Aljazeera in November 2017 sparked gay rights discussions in Ghana.
British Prime Minister Theresa May said in April, her country is sorry for inserting anti-gay legislation in the statues of its former colonies.
The suggestion appears to be that Africa shuns gay rights because the British put it in its colonial laws which were carried into constitutions of the colonies after they became independent.
The Speaker of Parliament, perhaps, the most vocal campaigner against homosexual rights in Ghana believes there is no need for LGBT to push for their human rights to be respected.
This is because they already have the same rights as thieves, he says. The Speaker's vociferous views on gay matters are not new, but the temper of his resistance may appear appealing for persons criticising gay rights.
SAME-SEX MARRIAGE IS NOT A HUMAN RIGHTS ISSUE
A private legal practitioner and fierce critic of homosexuality, Moses Foh-Amoani, continues to maintain his disposition against attempts by the lesbian, gay, bisexual, and transgender (LGBT) community to have same-sex marriage legalised.
Contrary to the principal argument posited by homosexuals that their human rights are being violated because of their sexual orientation, the anti-gay campaigner believes same-sex marriage is not human, and hence, cannot be considered as such.
Mr. Foh-Amoani argues further that there is lot of falsehood being peddled around about LGBT rights, especially same sex-marriage being a human right.
"People are beginning to realise that there is lot of propaganda, a lot of falsehood about homosexuality, for example, it's not a human right. In November, 47 judges unanimously ruled in European human rights court that same-sex marriage wasn't a human right. Why is it that the BBC has not talked about this; CNN has not talked about this; they've shelved it because they know it is against their agenda…All that propaganda is thrown out of the window because it's not a human right, because if it was a human right, if I wanted to have sex with a dog, a cat, those who practice bestiality, we can also say they are practicing their human rights," Foh-Amoani thundered.
Urging the local media and news outlets to educate Ghanaians on the subject, Mr. Foh-Amoani noted that same-sex marriage is criminalised because it offends society.
Mr. Moses Foh-Amoani, a Lecturer at the Ghana School of Law, has been leading the charge to resist pressures from the western world to have homosexuality legalised in Ghana, and Africa at large.
According to him, the practice of homosexuality is purely a psychiatric and spiritual problem, and persons suffering from such a condition must be helped, instead of being granted a right to live out their preferences.
BILL TO CRIMINALISE HOMOSEXUALITY COMING SOON?
The National Coalition for Proper Human Sexual Rights and Family Values says its outfit would soon present a draft bill to Parliament to criminalise homosexuality.
The bill, titled a 'Comprehensive Solution Based Legislative Framework for Dealing with the Lesbianism Gay, Bisexual, and Transgender (LGBT) Phenomenon,' would be presented to Parliament very soon.
"We, as a coalition, have come together to research, and we assure Ghanaians that there would be a roadmap to ensure that the time for talking is over and must stop. We are preparing a legislative draft for a stakeholder's conference that will be put before Parliament for it to be passed into law. The bill would effectively provide solutions on how to best to help homosexuals, and at the same time, prosecute them.
The Spokesperson for the National Coalition for Proper Human Sexual Rights and Family Values, Mr Amoani, says the bill, unlike the LGBT, would be based on knowledge, scientific and empirical research, and not just talks.
The National Coalition for Proper Human Sexual Rights and Family Values says "the bill will be a researched Afrocentric response to Western European and LGBT groups, who are pushing this act onto African countries."
According to the bill, homosexuals would be grouped into two categories, and the response to be taken in regard to curbing homosexual behaviour would depend on which category such individuals fell within.
"Some become homosexuals because of peer pressure, economic reasons, then, the medically affected ones like hormonal imbalance, such people need help, so we would provide such help for them through the Ghana Health Service, by setting up a comprehensive unit that has a psychiatric, psychologist, medical personnel, surgical team, guidance and counselors, and Gospel ministers to help them.
"But, for those who think it is a lifestyle and they want others to get involved, the law will deal with them, because we will clearly define what homosexuality is, what LGBT entails, and if they are caught, they will be prosecuted," Mr Amoani emphasised.
Mr Amoani said the bill would be given the help needed to reform homosexuality, "but if they don't, we will take them through the processes and be convicted. But even in prison, we will provide guidance and counselling for them."
The coalition is made up of all three major religious bodies in Ghana, represented by the Christian Council of Ghana, the Ghana Muslim Council and Amadhiya community, and traditional rulers.
POSITION OF ACILA
In the light of all the above submissions, enters the Africa Center for International Law and Accountability (ACILA), which was incorporated under US law, in the state of Virginia, on 20th October, 2015, and received its designation as a 501 (c)(3) research and education, non-partisan, non-profit, and non-governmental organization from the Internal Revenue Service of the United States of America.
On 23rd December, 2015, ACILA was incorporated under Ghanaian law as a company limited by guarantee and granted non-governmental organisation (NGO) status.
The vision of ACILA is an Africa without impunity, adherence to the rule of law and public accountability, and compliance with regional and international instruments.
The mission of ACILA is "to fight impunity for international crimes, advocate justice for victims of international crimes, and use research and public education to promote African states' adherence to international human rights, rule of law, public accountability, and compliance with regional and international instruments.
The objectives of ACILA are to contribute to African scholarship through enhanced understanding of international law, conduct research on bilateral, regional, continental and international law instruments that Ghana and African states have signed or ratified, in order to enable Ghana and African states meet their obligations.
ACILA also seeks to educate the public about the bilateral, regional, continental and international law instruments that Ghana and African states have signed or ratified, and their rights and obligations under them, press for reform of bilateral, regional, continental, and international law instruments, empower citizens to demand accountability and responsiveness on issues pertaining to human rights, anti-corruption, good governance, rule of law, and international justice.
Again, ACILA monitors African states' compliance with bilateral, regional, continental, and international instruments, designs, develops, and administers training programmes on bilateral, regional, continental and international law instruments.
The NGO collaborates with domestic, regional, continental, and international bodies to foster the attainment of the stated objectives of ACILA.
ACILA ENGAGES JOURNALISTS ON GAYS RIGHTS
A study conducted by the Africa Centre for International Law and Accountability (ACILA) has found that Ghanaians are more worried about homosexuality than any other issue plaguing our society bar corruption.
The recently released study, conducted in June, found that issues such as armed robbery, rape, high cost of living, poor infrastructure, galamsey (illegal mining), education and many of the other myriad problems in Ghana concern the average Ghanaian far less than the issue of homosexuality.
Ghana as a country is plagued with so many problems which on a daily basis make the life of the average citizen a living hell, yet people are actually more concerned with what two people do in the privacy of their own room?
Gays are not making Ghanaians poor. They aren't messing up our healthcare system and leaving people to die in the streets because of lack of beds or raising the prices of fuel and utilities — but so long as we don't have to accept them into our society we are happy living lives not much better than what is led by someone in a failed state.
Seriously, Ghanaians have been so brainwashed by our religious and political leaders we would be happy with our lives so long as the gays are not treated as human beings.
If you look around Ghana, at the numerous stories everyday showing the million and one ways in which this country is a mess — how can you justify discriminating against gays as the second most important issue we should have?
The ACILA study in June, sampled 1,200 respondents in five regions, which is an impressive sample for a country of Ghana's size.
It found corruption as the number one concern of Ghanaians, followed by LGBT issues.
Other findings are…
* 60% of Ghanaians "strongly disagree" or "disagree" that LGBT persons deserve equal treatment as heterosexuals.
* 87% of Ghanaians are against LGBT persons holding public meetings to discuss LGBT issues.
* 20% of Ghanaians "strongly disagree" or 'disagree" that the Police has a responsibility to protect LGBT persons against mob injustice.
* 80% of Ghanaians are "very uncomfortable" or "uncomfortable" associating themselves with LGBTI persons.
* 30% of Christians, 40% of Muslims and 50% of traditionalists say they will not receive emergency medical treatment from a nurse or doctor they perceive as LGBT.
* 13% of Ghanaians will 'physically abuse", "verbally abuse" or "force" an LGBTI person to hide his or her identity.
* 45.3% of Ghanaians will "socially shun" an identified LGBTI.
* 54% of Ghanaians say expelling students perceived to be LGBTI should be promoted.
From the forgoing, the Executive Director for ACILA, William Nyarko, himself a Journalist, has fallen on fellow journalists, urging them to lead the crusade to promote the fundamental human rights of LGBTI persons in Ghana.
The award winning Journalist turned human rights advocate, believes that nondiscrimination is a significant rights issue, and it is important that governments do not unnecessarily interfere in the rights of persons considered to have 'behaviours unaccepted to the society'.
This is especially important to minority groups, whose practices are all too easily trampled on by laws and policies enacted by majorities.
In the view of the Executive Director of ACILA, when exemptions to laws to accommodate beliefs or practices impinge on the rights of others or core societal values like nondiscrimination, lawmakers should proceed with caution.
CONCLUSION
Former US First Lady Hillary Clinton once said "Gay people are born into every society in the world. Being gay is not a Western invention. It is a human reality… It should never be a crime to be gay… Some have suggested that gay rights and human rights are separate and distinct, but in fact they are one and the same."
The debate on LGBTI persons in Ghana is gaining steam and sooner than later we shall as a country decide whether to allow set tables for gays and lesbians or switch the light on them. Time will certainly tell.
The author is a Journalist with The Chronicle