ABii National Screens Agona-Swedru Residents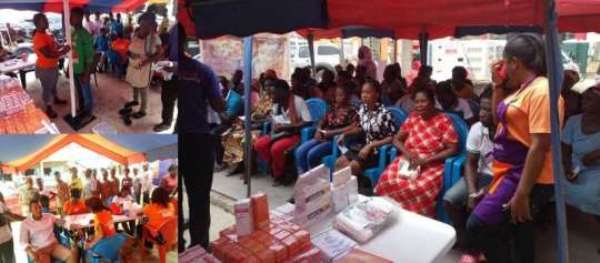 ABii National Savings and Loans, with support from the Tobinco Group of Companies has organised a free health screening and treatment session for its customers and the public at the premises of its Agona-Swedru Branch.
The kind gesture to the community, was part of ABii National's Corporate Social Responsibility (CRS) on the theme 'Health for all and true care for the needy'.
With support from ABii National's parent Company, Tobinco Pharmaceuticals, the programme was aimed at making medical services available to the majority of those who find it difficult or impossible to access medical care.
The screening exercise attracted over 200 people, who took advantage of the occasion to check their health status, such as malaria, blood pressure, blood sugar level, body mass index, hepatitis B and other general health checks with free consultation services.
Numerous drugs ranging from analgesics, hematinic, antibiotics, de-wormers and anti-malaria drugs distributed by Tobinco Pharmaceuticals, were given out free of charge to the participants.
Medical personnel were also available to offer free advice to the people, who took advantage of the programme.
Mr Ashie Bennet, the Head of Corporate Affairs and Service Excellence, ABii National, said his outfit was overwhelmed with the number of people who turned out to be screened, and expressed his joy that the Company reached out to such a large number of people in just one day.
He recounted that ABii National won a Customer Service award just a week ago and it was important that they celebrated their customers and made them feel special.
He said their CSR theme for a couple of years now had been, "Health for all and True Care for the Needy"; and that the event formed part of the numerous programmes and activities lined up to help the needy and poor in society.
He said the exercise had also become even more crucial since it looked like such CSR activities were not common in the area.
He expressed his full gratitude to the other Tobinco Group subsidiary companies, who partnered them, within such a short notice to make the programme possible and successful.
Mr Evans Focus-Quartey, the Branch Manager of ABii National, Agona-Swedru, expressed gratitude to all residents of the area for their immeasurable support over the years and was pleased that the Company had found a way of giving back to them.
He assured all their customers and the public that ABii National, especially the Agona-Swedru branch, was poised to offer them the most convenient and rewarding financial partnership, which would unlock their financial potential.
Most of the customers, residents, traders and by-passers, who benefitted from the exercise, said they had not seen such a benevolent gesture in the area and were very grateful to ABii National and the Tobinco Group of Companies. GNA