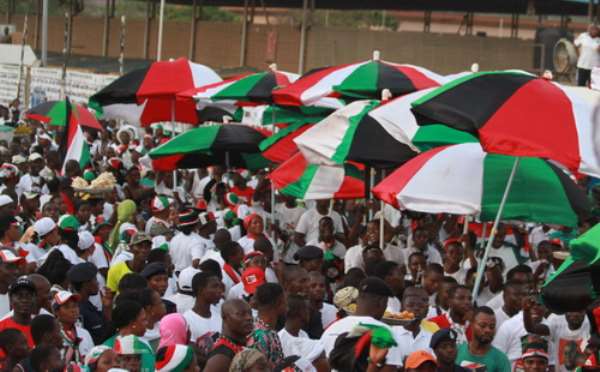 Two years into its four-year term, the NPP government is coming unstuck! At this half-way mark, recovery is highly unlikely before the 2020 elections and the party would go into the elections with such deficits that the path would be laid very open for the NDC's return. Everything is looking that way at this halfway point.
But is the NDC ready to grab the opportunity? Right now, gnawing away at the strategic political entrails of the party are many gremlins in a frenzied dance of self-destructiveness! Taking a page from the NPP's own book of madness which saw the Party parading close to twenty presidential aspirants in the primaries leading up to the 2008 elections, the NDC's aspirants seem to be totally oblivious of this historical infamy.
The electorate does not reward such behaviour. At the last count there were eleven or so of them, and wait for this, 10 of them vying to gang up and destroy the NDC's main hope of forming the next administration: John Dramani Mahama.
It is as incomprehensible as it is, frankly, annoying. Democracy was used by the NPP to justify its ludicrous line up, as is being used now. Who can fight democracy? We are told that, with all its imperfections, it is still the best we have. Agreed. Being a contest of ideas, we lobby, we persuade others, who may not always agree with us, to see eye to eye on a particular and peculiar case for "a way out" ending in a win for all. Democracy does not preclude consensus. Indeed, in certain special circumstances, acclamation becomes the most desirous and viable way out.
As the 10 versus 1 NDC presidential primaries "hot" up, a bemused electorate looks on, waiting to see how it would pan out. Monitoring the airwaves, social media and interpersonal communication, the preferred candidate is clearly former President John Dramani Mahama. The presidential elections in 2020 would be fought around his national and international legacies NOT NDC's internal gripes and grouses, which those lined up against him are purveying. Furthermore, a lot of "Sympathy votes" and "Votes of expiation" by the large numbers of people who feel betrayed and deceived by the lies of 2016 will all be his. The cry of "All is forgiven, come back John Mahama" is all-pervasive and that is what the NDC should exploit, not this quixotic fancy of democratic grandstanding of numbers. Quality not quantity! Time now for the anecdotal smoke-filled room to hammer out concessions and move on…This commentary refuses to give credence to the finger-pointing in the direction of the Founder as somehow trying to wreck the party…It makes no sense and should not be encouraged. He has a role to play as a conciliator…
There is an urgent need to look beyond the primaries to the main event of 2020 because the votes that would go into the ballot boxes would be based on which presidential candidate has more national appeal and sympathy…The electorate would be voting for the candidate whose track record has the tangible potential of being added to and expanded. The generality of the electorate could care less about "foot soldiers" or what disgruntled party members are whinging about. A strong and re invigorated party executive, should sort out internal party disaffections and restructure a clear-cut Government-Party interface to cater for all...But first, the right thing must be done to win the elections …