You Are Messing Up Nana Akufo Addo's Government With Your Incompetence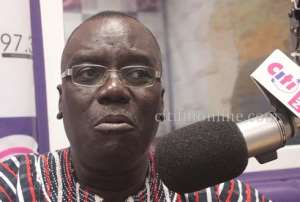 Mr.Kwadwo Owusu Afriyie
Dear Mr.Kwadwo Owusu Afriyie....
I believe you will take this serious from me looking at the circumstances surrounding the seeming altercation between your outfit and the good people of western North concerning a task force you constituted some few weeks ago. This morning on joynews, you have instructed the military to embark on "shoot to kill" illegal chain saw operators in the forest. For me protecting the forest from wanton destruction is a good idea but the question we need to be asking ourselves is that, is this "shoot to kill" the best way to go?. This isnt the first time illegal chain saw operators are being chased out from the forest if you care to know. Under the NDC, forest guides descended heavily on illegal chain saw operators in a more matured manner.Nowhere and at no material point in time were they directed to embark on "shoot to kill".
I know this is a media gimmick you have started just to divert attention from the real issues and situations on the ground because, you have heard that, your party executives in the eight constituencies in the western north have jointly lodged serious complaints to some national executive officers who came here to pick first hand information in respect of the recent press conference organised by party executives. Some of us werent surprised at the turn of event when all of a sudden,salaries proposed for afforestation supervisors were slashed from one thousand two hundred Ghana cedis (ghc1200.00) to seven hundred Ghana cedis (Ghc 700.00) contrary to what was stated in their appointment letters.
As an experienced lawyer of your calibre and knowing very well the legal ramiification of this breach, you failed to direct the public Relations Officer to issue a simple statement for explanation as to why your outfit took the said unlawful decision. It is a truism that, "if you fail *to pay attention to common sense,you give people room to question your level of intelligence*".
This afforestation is a laudable policy by this government but because of your incompetence, beneficiaries of this beautiful policy are not seeing its importance. After messing up this policy which has caused public disaffection to the government, you have also decided to mess up "Operation halt the wanton destruction of our forest" policy by this government to protect the forest. Are you not aware that, your directive to the military in this regard is unlawful?. As a professional lawyer and at your age, I do expect you to know better.
Since you assumed office as a C.E.O of the Forestry Commission, you have issued compartments to NDC staunch financiers within the region in breach of the Timber utilization Management Act,1997( Act 547). You have also failed to ensure that,local firms in the timber business comply to the 30% local sales "they are to make "for ordinary carpenters to get raw materials to work on for furniture and the likes. These are the issue some of us want your outfit to address in setting the records straight. It appears you have tried your possible best to serve all these. I recently issued a statement to clarify certain issues the Forestry Commissio misreported to mislead the public concerning the unlawful operations of the forest task force which I sent a copy via the Forestry Commission's email for possible response but as we speak,the commission hasnt done that in line with intellectual engagement.
Again, some of us werent surprised when the paramount chief in Jakobu in the Ashanti Region accused you of using "reclamation exercise" in the jakobu forest as a smokescreen to also engage in *GALAMSEY*. This is exactly the same approach you have adopted to confuse the public in order to swerve attentions from the fraudulent compartments you have issued to NDC top financiers within the region without recourse to Act 547(Act,1997). Under your auspices, not a single party member who went through due process to get a compartment has been giving but day in and day out, compartments are being issued out to NDC financiers in breach of the law.
The best way to tackle the chain saw menace in the forest isnt this "shoot to kill" method. The professional way is to ensure strict adherence to the 30% local sales timber firms are supposed to make for carpenters to work on as raw materials for their furnitures. Surprisenly all these timber firms in western north are not doing that so the questions is, where do you want these carpenters to get their raw materials from? definitely the stubborn ones will enter the forest with their chain saw machines just to get raw materials for their work. The best way to find an antidote to a disease is to first check the causes before other things. I want to use this medium to call on the president to whip Mr Kwadwo Owusu Afriyie in line before it is too late.
Dawda Eric(Equity)
Citizen Vigilance for Justice
9th October,2018
[email protected]