Open Letter to Dr. Richard Ampadu-Ameyaw, a pro-GMO Scientist in Ghana, on GM Foods.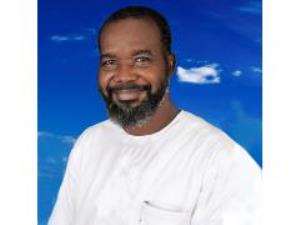 Only a few hours ago, I read a Ghana News Agency (GNA) reportage on an interview one Dr. Richard Ampadu-Ameyaw, a pro-GMO Scientist, granted it to express his views that GM Foods meant for the consumption of Ghanaians are safe!
The caption to this reportage was Ghanaians Challenged to Reject Wrong Perceptions About GM Foods published on the Modern Ghana internet site via the link: https://www.modernghana.com/news/888473/ghanaians-challenged-to-reject-wrong-perceptions-about-gm-fo.html.
Sadly, after laboring to read the entire article, I saw nothing impressive or worthy of being a challenge to my views that GM Foods should never be eaten by humans, whether willingly or compelled!
As I got to the end of the reportage, I came face to face with a funny comment by a reader who chose to put his name as "No to Immoral & the Wicked" which I suggest that you, my dear reader, should also read! Well, I too had to post some comments meant for the scientist below this funny one.
However, after thinking over the seriousness of my own post, I decided to make it more public to the people of Ghana, and hence this my open letter to the renowned pro-GMO scientist of our time! So then, here comes my open letter to him.
My dear Dr. Ampadu-Ameyaw: Let me ask you, straightly, if you deem yourself worthy, capable, or qualified to MODIFY whatever kinds of maize, or beans, or groundnut, etc., the Most High One has made by His WISDOM & POWER and declared them as holy, perfect and safe for the consumption of His creation? Are you challenging the Most High One in His art of creation by your GMO evil wizardry and witchcraft?
Remember Satan can create nothing [new] since he lacks the art of creating, but can only pollute or distort through such sciences as are involved in GMO and others, the perfect creation which the Most High One has made for you and I to enjoy with thanks and appreciation to Him; and to pass them on, in the same state of purity in which we met them, to coming generations!
So, why this weird craze of yours about GMO?? Please THINK before you leap.
I am a vegan because I realize the animal line as a food source for human consumption has become too polluted, through the crossbreeding of animals, to the extent that no meat is safe for human consumption anymore!!
For instance, the holy and perfect flat back and hunch back cows, as we had in Ghana existing uniquely as such some time ago, have now been crossed by scientists of your ilk and kind, against the commandment of the Creator and this has thus produced a third kind of cattle He did not create or ever intended to come into being.
For, even though the Creator has WARNED man in Leviticus 19:19 of the English Bible thus: "Thou shall not gender thy cattle with diverse kind" people of your profession have gone ahead to disobey this warning and have gendered all livestock breeds!
So then, what beef is canned for food and exported to us from our slave masters; or what beef are the butchers selling to buyers in our markets? I don't know; and so I stay away from all animal products, milk and all.
Now you want to pollute the crops too by your GMO and then some of us will have nothing safe and as holy as the Creator made and offered as food to humans! And then, some of us must leave your scientific world, prematurely, even though the Most High One would love to have us here on Earth to render His services to mankind! Is that what you want??
Let all right thinking people say NO to GMO; and let all governments of the Earth listen to voices of reason and wisdom against GMO. For GMO is anti-Life, Satanic, and PURE EVIL. All must know that the science of GM is pure evil and 100% Satanic; and must be shunned.
Only people who are ignorant of the will of the Creator or want to fight Him are misused by Satan to engage in and to promote such things as GMO!
Dear Dr. Ampadu-Ameyaw, I am sure when you get to be my age you will come to see many of the things we learned in schools as lies and evil; and possibly even begin to abhor yourself for ever promoting them.
And please, Dr. Ampadu-Ameyaw, a piece of advice to you: do look for a spiritually holy thinking cap to put on when you go about matters concerning precious humanity.
Shalawam!
The writer, NngmingBongle Bapuohyele aka Tabal-YA'OH Ban Ab-YA'OH, is a Thorah-Based Life-Coach of HaBaYTh YA'OH-SharaL (GH) and Author. His Email Contact Address is: [email protected]