Why Ghanaians Are So Doubtful About Akufo-Addo Governance Success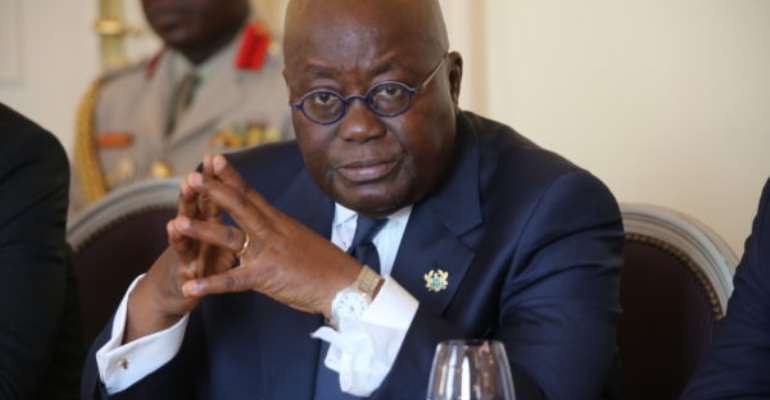 The commonest public parlance in both public and NPP circles over this Akufo-Addo administration is that 'the grounds are not good at-all'. This is giving the NDC and John Mahama the courage, hope, aspiration, confidence, and strength to contest with a failed Akufo-Addo administration and win the 2020 presidential elections one-touch.
As to why the grounds are not good for an Akufo-Addo continuing administration, though only less than two years old can be attributed to several factors, only a few of which can be stated here for the sake of brevity.
People's dilemma whether to remain and wait with excessive patience in this static or snail-pace moving administration, or to switch camp to the NDC, most particularly the usually undecided voters who chose to vote for Akufo-Addo continue to increase by the day, and it's likely they will not. If most NPP followers get gripped with apathy, then, we're lost.
Number one on people's worries is Akufo-Addo's "firm" promise to launch an attack on corruption in Ghana. Nobody needs to invoke the spirits of revelation to identify the heavily corrupt in Ghana, yet it's taking Akufo-Addo administration, plus all the powerful powers vested in him as President to make Ghanaians feel and see justice begun to be done months upon months over corruption trials.
Worse of all, his administration is full of corrupt officials, most especially his nephew Gabby Asare Okyere Darko, who plays a questionable role in his uncle's administration. Though he claims not to be a government official, no appointment is approved without his express ascent, and he's on the list of all dignitaries during Presidential travels outside Ghana.
Asante Bediatuo, his State Secretary is about his most powerful advisor. So, may we ask, did Mr Michael Boye-Ananwoma, the State Secretary to Prime Minister Prof. Kofi Abrefa Busia have such powerful controls over the late Prime Minister's administration? The answer is an emphatic NO!!!!, because Prof. Busia knew what he was to do as Prime Minister, whereas Akufo-Addo has to rely on Gabby and Bediatuo for governing directions and decisions. Asante Bediatuo wields power more than any known government official, and one of the most corrupt in Akufo-Addo's administration.
The Chief of Staff, Akosua Frema Opare, the most inept Akufo-Addo appointed official at the Jubilee House, dashes out money like frogs laying eggs in a water pond.
Lord Comey started his thievery and corruption from day one of his appointment as Director of Operations at the Jubilee House. His powers unilaterally extended to the Tema and Takoradi sea ports.
Police corruption and civil servants corruption have gone up tenfold, yet the governing system is silent over them.
Akufo-Addo appointees reshuffle was simply a joke. Non-performing appointees have remained at their post, with only two victims of unfortunate circumstances being used as scapegoat sacrificial lambs. Agyarko's dismissal was created by Gabby and Bediatuo.
Otiko Djaba was fired for being a principled woman of valour who strictly maintained her dedication and principles to her Progress Party/UP tradition which should automatically descend down to this NPP generation.
So, is Akufo-Addo telling Ghanaians that he hasn't heard about the murmurs doing the rounds everywhere in Ghana? Indeed he's heard and knows everything, but he's helpless because he's neck-deep in "Akyemism" he's governing Ghana under a family and friends and cronies system of business, just like running a family businesses in Ghana that don't usually succeed, that's why Akufo-Addo is failing, and he will continue to fall, even if given 100 years to stay on the Presidency.
This doesn't however mean that Akufo-Addo failure should mean NPP failure. He's one person in the NPP multitudinous membership with scores of capable and able leaders, unlike in the NDC, in which out of mediocrity, they see John Mahama as their sine qua non leader. NDC have no alternative to their one demigod, John Mahama, but in our UP tradition, there are many capable and potential leaders for President.
This is why we of the UP tradition are very vigilant on the activities and performance of our leaders whenever we're in power. We are poised to keep them on their toes, by ensuring that they do not stray from recognising the welfare of the citizens. A leadership failure is readily changed for another, and it will serve as a warning deterrent to all future NPP leaderships and Presidents.
The Secretariat of the 1956 UP Tradition Committee