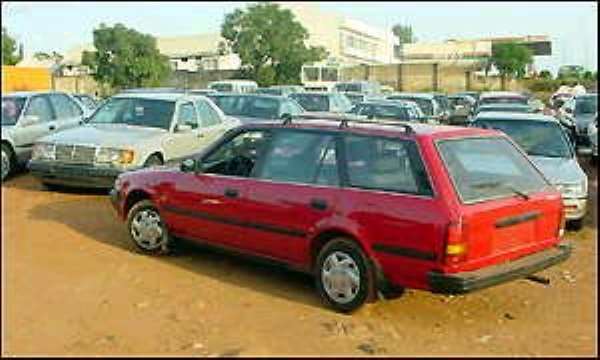 A computerised system with an elaborate database for assessing the values of imported motor vehicles and levying appropriate import duties on them has been introduced at the Tema Port.
The system replaces a decades-old manual system which was open to frequent abuse and resulted in weekly losses of hundreds of thousands of dollars to the state through short collections.
Only weeks after its introduction in the first week of September, the computerised system has began exposing attempts by some importers and clearing agents to make short payments of duties through misrepresentations regarding the values of imported vehicles.
For example,a VW Toureg from a European manufacturer was presented a fortnight ago as an American model and accordingly valued at US$34,000.
Using the database of the computerised system,however,Mr Albert Akurugu,a vehicle examiner of the Customs, Excise and Preventive Service (CEPS) discovered that the home delivery value of the said vehicle, should have been 58,163 euros.
The transaction resulted in a short payment of ¢114,387,470 to CEPS.These were made known by customs officials when the Graphic visited the Tema Port this week to investigate complaints by some importers,freight forwarders and clearing agents of alleged unilateral increases in import duties for vehicles by CEPS.
The sector commander in charge of CEPS at Tema,Mr Sam Yankyera,told the Graphic that the introduction of the computerised system was being met with subtle resistance from importers and clearing agents who benefited from the ineffectiveness of the previous system.
The commander said such importers were responsible for widespread rumours that CEPS had increased customs duties on imported motor vehicles.
He explained that the previous system relied on an improvised database comprising an old vehicle manufacturer's manual and bits and pieces of information collected and written in exercise books and on pieces of paper.
Mr Yankyera said the data provided by local agents for manufacturers of various types of motor vehicles were relied upon to assess duties on imported vehicles during the operation of the manual system,adding that where there was no local agents for manufacturers of a vehicle,data provided by the first importer of any type of vehicle was relied upon.
"It previously took up to a week to calculate home delivery values and duties due on imported vehicles but under the computerised system, it takes less than 10 minutes to assess values and calculate duties due on imported vehicles.
"The values on the data base now make it impossible to manipulate the values and taxes due on cars," Mr Akurugu explained,adding that values determined and duties calculated under the new system were not only reliable, but easily verifiable by importers and clearing agents who may contest values and duties assessed.