Corruption: South Korea's Ex-President Lee Sentenced To 15 Years In Prison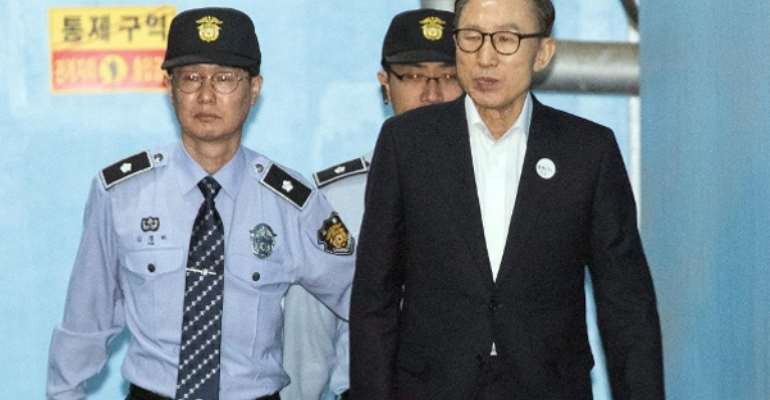 Lee Myung Bak, former president of South Korea, arrives at the central district court in the capital, Seoul, accusing him of corruption, abuse of power and violation of constitutional values.
Bribery, embezzlement and abuse of power, former South Korean President Lee has been jailed for 15 years. He follows some predecessors.
Former South Korean President Lee Myung Bak has been sentenced to 15 years in prison for corruption. A court in Seoul found the 76-year-old on Friday, among other things, the bribery and embezzlement guilty. Lee was also sentenced to a fine of the equivalent of ten million euros.
A heavy sentence for the accused is inevitable, said a judge during the live televised verdict. The ex-president did not participate because of bad health and in protest against the television broadcast. "Lubrication and bribes."
Lee, from 2008 to 2013 head of state of the East Asian country, had been charged in April in 16 points, including bribery and embezzlement and abuse of power. According to the court, it was proved that Lee was the de facto owner of auto parts manufacturer DAS, which created a bribery fund worth 24 billion won. (18 million euros). Lee had said the company belonged to his brother.
The court also found Lee guilty of pardoning Samsung Electronics CEO Lee Kun Hee in return for a bribe of nearly six billion won. He had been convicted of tax evasion.
Lee's lawyer wants to check, according to the South Korean news agency Yonhap, whether he will appeal. He called the verdict "extremely regrettable."
Corruption is not uncommon among South Korean presidents
South Korean presidents often deal with the judiciary after the end of their term. Lee's successor, Park Geun Hye, was sentenced to 25 years in prison this year for corruption and abuse of power. She was sentenced to another eight years in jail in July for illegally accepting state secret service funds.
Lee's predecessor Roh Moo Hyun had taken his own life after a 2009 corruption allegation. Two other former conservative presidents, Chun Doo Hwan and Roh Tae Woo, had been jailed for corruption and subversion.
Francis Tawiah (Duisburg -- Germany)