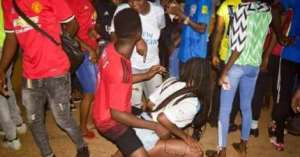 The University for Development Studies (UDS) has denied organising a "sexy party" to welcome fresh men and women at it Nyankpala campus.
The Dean of Students Dr Adu Gyamfi said the party was an event organised by the Students' Representative Council to welcome level 100 students.
The denial comes after photos of students dancing in compromising positions flooded social media.
Dr Gyamfi explained that the photos were taken when the students went into a frenzy when the popular "One Corner" song was being played.
'You know how some people, especially the youth react to the 'One Corner' song and it was in such frenzy that, those pictures which went viral were captured and cannot be said as a sex party' he said, news website graphic quoted him as saying.
He also the obscene photos are 'fabricated and an attempt to tarnish the hard earned reputation of the University.'
Meanwhile, some students and religious groups of the university have blasted the SRC for showing poor leadership.
The Deeper Life Campus Fellowship, one of such angry religious bodies, has condemned the event as 'not good' and 'unacceptable'.
A senior member of the Fellowship, Charlies Atonive, said the SRC which organized the event did not consult the religious bodies on campus.