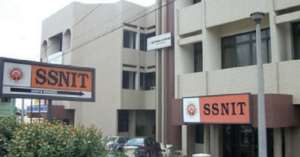 The Social Security and National Insurance Trust (SSNIT) has said that the contributions members of the general public are safe and is nor being diverted into personal investments of individuals.
This comes after reports in social media suggested that SSNIT was diverting workers contributions into treasury bills for personal gains by some individuals at the company.
However, SSNIT said the reports are untrue and must be disregarded.
In a statement, SNNIT said its current system makes it impossible for funds of contributors to be diverted.
'Systems put in place by the trust make it impossible for workers' contributions to be diverted, hence it is totally untrue that SSNIT is diverting contributor's monies into treasury bills for personal gains by some individuals.'
The statement added that 'the management of SSNIT is assuring all contributors that their social security contributions and pensions are safe. Contributors should, therefore, ignore the call for them to rush to check their statement. The message, therefore, has no basis, is totally false, and must be disregarded.'