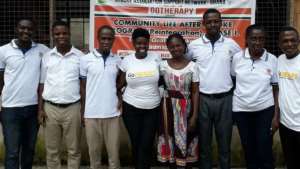 GoTHERAPY in partnership with the Stroke Association Support Network–Ghana has helped stroke victims gain access to quality rehabilitation services through the support of Stroke Community Re-Integration Program (SCRIP) held at the Saviour Memorial Hospital in Oseim in the Eastern Region.
Through SCRIP, over 50 stroke survivors and community members received intensive Occupational Therapy and Physiotherapy services within their community.
The aim of the Stroke Community Re-Integration Program (SCRIP) is to strengthen stroke survivors access quality rehabilitation services, create awareness and prevention methods using a community-based model.
The Executive Director of GoTHERAPY, Robin Famatta Baker said there is life after stroke and rehabilitation services is an imperative part of survivors recovery.
She noted that stroke survivors throughout Ghana need access to Occupational Therapy, Physiotherapy and speech therapy services to help them regain independence and improve their wellbeing.
According to him, Stroke is one of the leading causes of death and long-term adult disability in Ghana.
She added that the effects of stroke can lead to difficulties in dressing, bathing, grooming, walking, swallowing, communication, cognition, bowel and bladder function.
Madam Baker intimated that rehabilitation is imperative to the overall functioning and long-term outcomes of stroke survivors.
She noted that cost, inaccessibility and transportation are some of the challenges survivors face when seeking therapeutic services.
Madam Baker indicated that after 3 weeks of therapy, survivors demonstrated improvements in balance, coordination, walking and increased ability to engage in daily tasks, such as dressing, washing, grooming and cooking held at Oseim from 3rd to 21st September, 2018.
GoTHERAPY, is a non-profit organisation whose mission is to improve persons living with disability access to quality occupational, physical and speech therapy services.