Statesman Editor's problems refuse to go away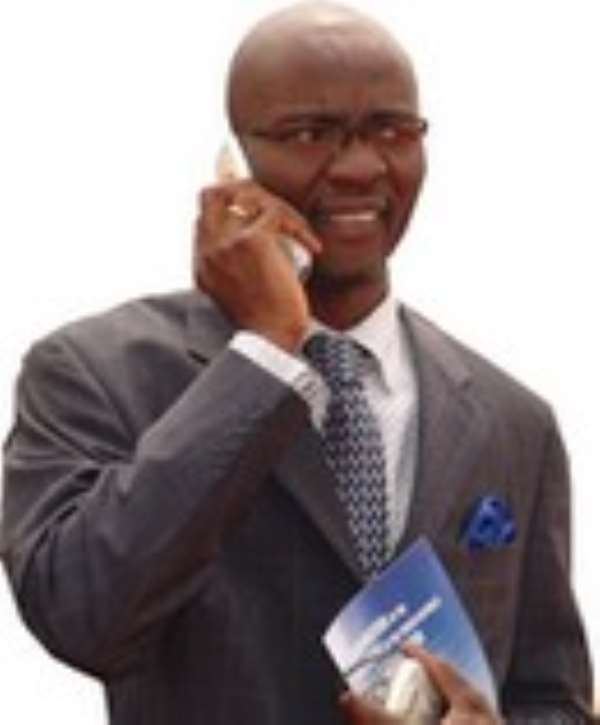 As witness vows to expose him … And Ansa-Asare accuses lecturers over missing files The former Deputy Registrar of the Ghana School of Law (GSL), Mr. John Yaw Opoku has told the committee investigating the Director of GSL, that the testimony of the Editor-In-Chief of the Statesman, Mr. Gabby Asare Otchere-Darko was full of falsehoods.
Counsel for Mr. Opoku, B. M Akpadzi told the committee at its sitting last Thursday that today, October 25, they would bring a witness to point out the lies Gabby had peddled before the committee.
"My Lord there are serious untruths in what the witness has told the committee and if my Lord would give us a few days so that we can acquire the transcripts, because my lord like the director of the law school is saying these are very serious issues that touch on the very integrity of the law school and handling them haphazardly would rather bring more damage than in-depth attempt to arrive at the truth," he stressed.
Flanked by another partner, Mr. Eric Atieku, Mr. Akpadzi said they would assist the committee in establishing the truth.
He stressed that to show their seriousness if required paying somebody to do extra work in order to get the transcripts for them they would readily do that.
Earlier, Mr. Otchere-Darko had told the committee that the testimony of Mr. Opoku that he had failed in two subjects, which was extensively discussed in the media, was not only malicious but also extremely strange.
He said when the story appeared in the media, he was then in London, however, an Accra-based radio station, Radio Gold called him to explain the circumstances surrounding his call to the bar.
According to him fortunately Mr. Opoku was also being interviewed at the same time by the same radio station but indicated that his testimony had been misrepresented by the media and he did not say that he (Gabby) had failed in two subjects but was cleared by Mr. Ansa-Asare.
Gabby stressed that after going through the transcripts he noticed that the media publication was not entirely misrepresentative of the testimony of Mr. Opoku.
He said it was almost a logical conclusion that any media would have admittedly induced or adduced by what Mr. Opoku had stated before the committee.
He said on September 5, 2003, the results of the examination were pasted on the notice board of the school, but he noticed that his name was not on the board so he approached Mr. Opoku to give why his name did not appear in the list.
Gabby emphasized that Mr. Opoku informed him that he had failed in two subjects that he had failed and that he had to be repeated.
Gabby said he followed up to the director and pointed out to him he had a lot of difficulty appreciating why he could fail in Family Law because of his experience in course.
According to him, the Director of GSL, Mr. Kwaku Ansa-Asare cautioned him that there were procedures to follow when a student was unhappy with his results and duly informed that he could petition.
He intimated that he did not want to be seen as singling out one lecturer or paper so he petitioned for the remarking of the two papers, which he had failed.
Gabby reiterated that when he returned from South Africa on September 19, 2003, Mr. Ansa-Asare told him that his petition had been granted and indeed they had actually got somebody to remark the Family Law, "So if I could quickly go and pay for the fee to have the remarking done, I believe it was about ¢200, 000, I have actually forgotten the amount," he added.
He noted that recently when he requested for certain information on his records he discovered from the registrar that every record on his school file was missing.
He denied Mr. Opoku's claim that he insisted that the right procedure be followed in order to pass Gabby, because it was Mr. Opoku who registered him to rewrite the supplementary exams on Taxation, after he had been cleared by the General Legal Council (GLC) on Family Law.
At its sitting on Friday, Mr. Ansa-Asare called for an end to the manner in which files of students were being stolen from the law school, pointing accusing fingers at some lecturers.
He expressed disgust at the mysterious circumstances under which records in the files of the Editor in Chief of the Statesman, Mr. Gabby Asare Otchere-Darko and his daughter, Ms Irene Ansa-Asare got missing from the law school.
Continuing with his response to allegations before the committee of enquiry probing him, Mr. Ansa-Asare denied the testimony of a Witness, Mr. T. N. Addy that Irene was not qualified or unduly registered at the law school.
Mr. Ansa-Asare denied assertions by Mr. Addy to the effect that though he was responsible for the registration of students, he never registered Irene Ansah-Asare and was therefore surprised to see her name on the pass list.
According to Ansa-Asare, in the first place, he Mr. Addy lied to the committee since he was not in charge of the registration and that his arguments to the effect that Irene was not registered because her documents were not perforated and filed were baseless, since in his words "perforation and filing does not constitute registration."
Ansa-Asare who said he was out to correct the erroneous impression created in the allegations that her daughter was neither qualified nor duly registered said there were discrepancies and inconsistencies in the statements of Mr. Addy to prove beyond reasonable doubt that, it was a calculated attempt to create some mischief.
In seeking to prove to the committee the inefficient nature of the registration process, Ansa-Asare cited a situation where some individuals were "de-registered" though they had taken part in a course.
He said in a special case that occurred in January, last year, though the Deputy Minister of Trade, Hon Osei Ameyaw came to pursue a programme with a relative, the name of the relative was deleted from the list, even though he came first in that batch.
"All these go to prove that because the registration system was not computerized, the records are not updated, which brings about a lot of problems," Ansa-Asare noted.
Ansa-Asare went on to say that Mr. Addy lied to the committee when he said that though he registered the students, and prepared their list, some names were not written by him but by Mrs. Sandra Cofie.
According to Ansa-Asare, Mrs. Sandra Cofie was appointed on August 15, last year, while the list was prepared on July 26 the same year and hence there was no way she could have written some names.
He stated that it was not necessary for the committee of enquiry to be set up because the allegations leveled against him were matters that emanated from meetings of the Board of Legal Education (BLE) and the General Legal Council (GLC), which the Attorney General was a member.
He said he was a victim of injustice because he was being accused of certain decisions taken by GLC.
According to him, for instance, the GLC refused to grant study leave to a staff of the Law School, Mr. David Djentu, who however, had petitioned the committee that he (Ansa-Asare) had victimized him by not recommending him for study leave with pay to pursue his masters degree programme He stressed that the sector minister, the Minister of Justice ought to have commended him for ensuring that sanity prevailed rather than publicly humiliate him.