MMDCE Elections Start Next Year - Akufo-Addo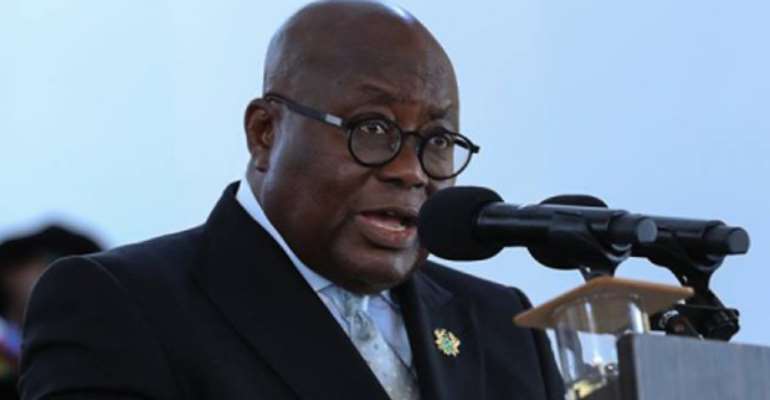 Barring any unforeseen circumstances, the positions of Metropolitan, Municipal and District Chief Executives (MMDCEs) would become elective next year.
This is in fulfillment of the campaign promise of the governing New Patriotic Party (NPP) to make the positions, which are otherwise political appointments, elective.
President Akufo-Addo, who made the announcement at the conference of MMDCEs in Accra yesterday, said "we have scheduled a referendum to remove the entrenched clause of Article 55 of the Constitution to permit direct popular election of Metropolitan, Municipal and District Chief Executives to coincide, for reasons of cost, with next year's District Assembly elections."
That, he said, is intended to improve the structure of governance system in the country.
He, therefore, asked current and existing MMDCEs not to feel intimidated by the yet-to-be introduced law.
"If the people of Ghana endorse our quest to make governance at the local level more democratic, you should brace yourselves to face the electorate directly to account for your stewardship and justify your positions as the Chief Executive of the Metropolis, Municipality or District. I believe your performances in office should put you in good stead," he stated.
The President took the opportunity to commend the good relationship that exists between most of the MMDCEs and their Members of Parliament and Constituency Executives of the ruling NPP.
"Let me encourage those of you who are having strained relations with your MPs and or constituency executives to redouble your efforts at harmony," he admonished.
He said "the history of our nation tells us that the misfortunes of ruling parties in the general election of 2000, 2008 and 2016 had a lot to do with the collapse in relations between MMDCEs, MPs and Constituency Executives of the then ruling parties."
President Akufo-Addo, therefore, urged the MMDCEs to forge closer ties with their MPs and Constituency Executives, "as that will inure to our collective benefit, and guarantee greater and more extensive development for the welfare of the Ghanaian people."
"We should never forget that it is the victory of the New Patriotic Party in 2016 that has made it possible for all of us, myself included, as the prime beneficiaries to occupy our present positions," he emphasised.
He told them that "the people of Ghana have put their hope in us, and we dare not betray their trust. This is a sacred opportunity, and I ask you to join me to make this nation the happy and prosperous place it should be."
By Charles Takyi-Boadu, Presidential Correspondent