Akyem Asuom: Serendipalm Foundation donates 15 motorised Tricycle To Farmer Associations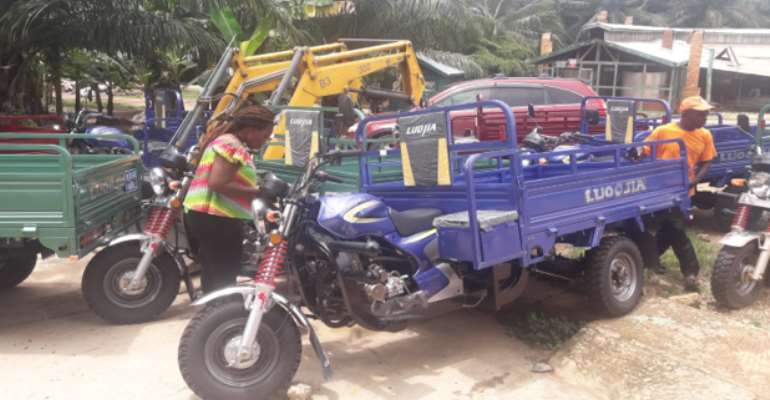 Agriculture development in the country is a shared responsibility of all stakeholders. As a result, the Serendipalm Foundation of Serendipalm Company Limited in Akyem Asuom has donated 15 motorised tricycles at a cost of One Hundred and Forty-three Thousand, Six hundred Ghana Cedis (GH¢ 143,600.00) to the farmer associations in the communities the company works with in and around Akyem Asuom.
Donation
Miss Efua Samah Arkaifie, the Fair-trade and Agriculture Support Manager of the company, who presented the tricycles to the farmer groups, said these are to facilitate and ease the farmers' operations in the carting of their farm produce such as fresh fruit bunches of oil palm and cocoa beans from their farms to bulking points for purchasing by the company. Also, the presence of these tricycles would help to strengthen the financial base of the association for their community development.
On his part during the donation, the Director of Serendipalm Foundation, Mr. Lawrence Acquaye urged the farmer associations to keep the tricycles in good condition and make the culture of maintenance of the tricycles a key portion of their daily planning. "It is an income generating opportunity for your associations and you have to do all that is possible to maximize the benefits of this donation". He also advised the farmers to follow all traffic regulations and stressed on the importance of using the crush helmet.
Farmers Appreciation
Mr. Kwasi Adjei, a representative of the farmer association in Akyem Bomso commended the foundation for the support and pledged on behalf of the farmers to take better care of the tricycles to realize the full benefits. "This will make our fruit conveyance easier and bring an increase in our supply of the fresh fruit bunches to the company"
Community Development
The company since its inception for a decade now has assisted the various communities in which they source their raw materials in the areas of education, health, water and sanitation and other economic empowerment projects. The company provides technical support for organic cocoa bean production and buys fresh fruit bunches of oil palm from small-holder farmers for processing into Organic and Fair Trade Crude Palm Oil at their processing unit situated in Asuom and through this provide employment and financial sustainability for the community at large. The company is celebrating its 10th anniversary in December, 2018 with educative and entertaining programmes for the Asuom community and its environs.