These Professional Prophets And The Commercialisation Of The Holy Word Of God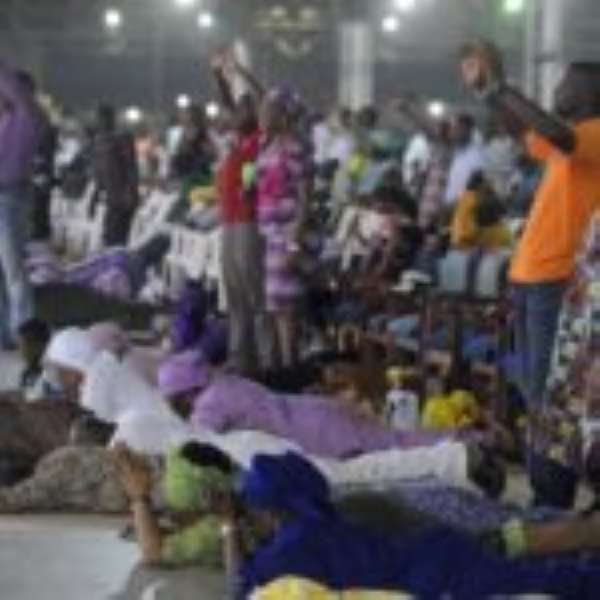 There are prophets who were called by God to do His bidding, and they accordingly, will tell humans about their wrong ways and instruct them to make a U-turn, a full 180º turnaround, from evil to good. These prophets say it as it is, damning any consequences, and pleasing only God in this equation, and not man. And like prophets, as they truly are, they follow the same pattern on their terms of reference, by going to seek the one to whom the prophecy is meant for, and delivering it directly.
Then we have the professional prophets who go about saying things that will sound pleasing in the ears of men for self-gratification, popularity, and wealth.
The Sacred Scriptures has names of a few of these prophets, and even the Lord Jesus Christ warned against them. In the Book of the Prophet Amos, the Prophet Amaziah had problems with Amos, because he was spoiling his business (Amos 7: 10-15). Prophet Shemaiah wanted to look good in the sight of men, and, thus, said things from his own mind as if he was sent by God, and he was severely punished for that (Jeremiah 29: 29-32), and the prophet Hananiah proclaimed what he claimed was in the Name of God when God had not spoken to him (Jeremiah 28). The Lord, in Jeremiah 23: 16, warned against so-called prophets who speak their own mind and not from the mouth of God.
Jesus Christ cautioned on a number of occasions about false prophets (St Matthew 7: 15-17; 24: 3-8: 24:11; 24: 24), and the apostles wrote extensively, warning against false prophets and false teachers. St. Peter wrote at length in his Second Letter to the Universal Church, warning about such fraudsters in the House of God. He was specific in the first three verses of 2 Peter when he stated: "There were also false prophets among the people, just as there will be false teachers among you, who will introduce destructive heresies and even deny the Master who ransomed them, bringing swift destruction on themselves Many will follow their licentious ways, and because of them, the way of truth will be reviled. In their greed, they will exploit you with fabrications, but from of old their condemnation has not been idle and their destruction does not sleep."
What is happening in Ghana and rest of the world is the upsurge of prophets who speak, not as the mouthpiece of God, but from their minds, things that will gratify them and make them more popular and sought after.
We are in the era, it seems, when these so-called prophets will take delight in coming out boldly to claim credit for the demise of any popular personality in society, because, according to them, God told them that this or that person was going to die.
It is not that God never sent prophets to people to warn them of their imminent demise due to their character straits, God did, and He does, but He always reveals to redeem. The most important thing is God always sends His prophets directly to those "To Whom It May Concern," to deliver His warning and the consequences of non-repentance.
But, now-a-day prophets will announce from the rooftops every New Year that some people within a certain category were surely going to die before the end of the year. And, when it does happen, they will flock to all media houses looking and sounding important, because the Holy Spirit permanently resides within them.
This cannot be of God, because, when Samuel went to deliver God's message about Saul, he did not do so from the rooftops or in the market square, but went directly to the king. When Nathan was told about the treacherous things that King David did, committing both adultery and murder, he did not address an assembly, but went to seek a private audience with the king.
But, here in Ghana, the wicked and callous nature of some of these men and women of God clearly demonstrates that they were only speaking their minds, but not speaking for God. For how inconsiderate are they to those who mourn their dearly departed and are in a state of grief, when such false prophets will tell the whole world the sins the departed committed to displease God.
When the youthful Ebony, a young celebrity, had her life cut short by accident, a number of prophets started showing up to claim that they knew she was going to die. Rev. Owusu Bempah was alleged to have made a statement that a great musician was going to die within this year of our Lord 2018, then Prophet Badu Kobi was also alleged to have told a radio presenter, in a private conversation, that Ebony Reigns was going to die, and then an audio appeared from nowhere, with a voice of another prophet by name Nigel Gaisie, who was alleged to have said on November 24, 2017 that the young celebrity was going to die in a fatal accident, if she did not change her ways.
This Nigel Gaisie, who became a celebrity overnight, went on to take center stage of talk shows to make himself proud that God, indeed, revealed that to him.
As we have it, we lost another important personality in the person of Paa Kwesi Amissah-Arthur, a former Vice President of the Republic, and presto, another man of God came out to claim that he had prophesied his demise earlier in the year.
Rev. Owusu Bempah's voice was allegedly caught on tape prophesying to a congregation that, specifically, the National Democratic Congress (NDC) man was going to die before the tenth month of the year, because, in that prediction he referred to an ex-Vice President and the lot fell on Amissah Arthur.
What was very callous was the man of God stating that because "they have done something" death was claiming the ex-Veep. Readers, at the moment of grief, how wicked will it be to start speculating that the death of the ex-Veep was a result of something, probably demonic, that he and his colleagues had participated in.
God would tell His prophets exactly what had offended Him, and hence his wrath. Truly, He does not leave minds wondering about what could be the result of His anger. So why is it that in the case of Ebony Reigns, she was to die because of her ways, what ways? Could it be her way of dressing, her way of singing, her way of dancing, or what? And do young members of even such churches belonging to these high and mighty prophets not do the same? So why are they still living?
And why is that in the case of Amissah Arthur, he was to die because of his involvement with others in something we are not told about? Was it occultism, high corruption, sex orgies and immoral sex, or what? Are there no corrupted persons and sex addicts in those churches of such prophets? And do we not hear of some of these churches having a satanic base as their foundation?
And why is it that it is only non-members of their churches who die or are destined to die? Why is it that it is only the rich, the powerful, and the famous who die, or are destined to die? Why is it that most of prophesies today are about negativity, and not solutions for redemption? Why is it that those to whom such prophecies are meant for must go over to see these prophets and make the necessary reparations (which will include some financial offering) or they die? Why do these modern age prophets we have do not do as the good prophets of old did by humbly going to seek those who the prophecies were meant for, and delivering God's word to them?
This scenario confirms the falsehood the Sacred Scriptures has been talking about. The whole commercialisation of Christianity is for all to see that most men and women of God we have today confirm what St. Peter said, that "in their greed, they will exploit you with fabrications." Some Bible versions of 2 Peter 2: 3a say in plain language that "they will take advantage of you with deceitful words for the sake of money." And yet, in another, "in their greed they will make up clever lies to get hold of your money."
It is all about wealth and fame and who is most powerful, and as some pastors even say they communicate with Jesus on mobile phones, others claim they visit Heaven, as and when, to chat with Jesus and associate with the angels and saints.
The question is, do these so-called men and women of God do what Jesus did and asked us to do? It seems No, because, in the bid to crave for wealth and fame, pride and arrogance have taken over a vocation which is meant to hold high humility as a virtue and sacrifices as ways of doing things.
Hon. Daniel Dugan