Lagos state governor misses out on second term chance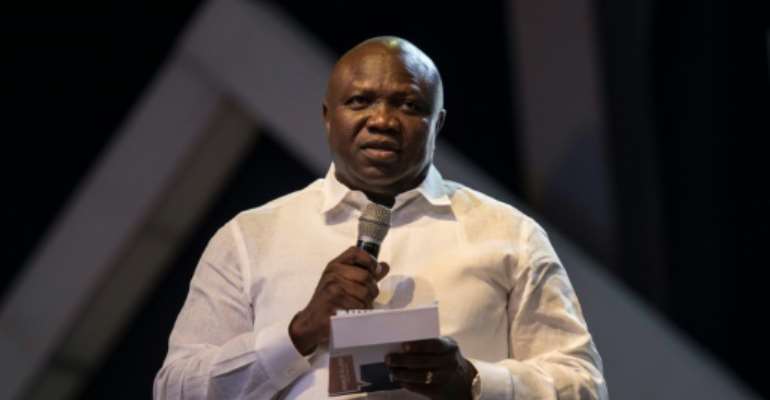 The governor of Nigeria's commercial hub of Lagos has lost his bid for re-election, officials said Wednesday, after a tense race highlighting divisions in the country's ruling party.
Lagos, a megacity of more than 20 million people, is the beating heart of Nigeria's economy and home to a thriving business sector and flourishing creative scene.
It forms the backbone of Nigeria's southwest swing region -- the keystone to winning a second term for incumbent President Muhammadu Buhari and his All Progressives Congress (APC).
But despite a second term being almost assured for state governors, in Lagos incumbent Akinwunmi Ambode failed to secure the APC ticket to stand for re-election in March next year.
In primaries held on Tuesday, Ambode won 72,901 votes while former state commissioner Babajide Sanwo-Olu secured 970,851.
The backing of APC leader and political godfather Bola Tinubu for Sanwo-Olu was seen as key to the surprising reverse for Ambode.
In the run-up to the Lagos primary, speculation was rife that Tinubu was butting heads with Buhari over who should be the APC candidate.
At the same time, Ambode made headlines for defiantly refusing to stand down.
Confusion had mounted because the date for the primary, which was originally slated for last Saturday, was changed three times.
On Tuesday election officials initially said the primary was not fair but by Wednesday had declared Sanwo-Olu the winner.
The embattled governor congratulated the winner in a state broadcast on Wednesday and urged party members to ensure victory for the APC in 2019.
"Dear Lagosians, APC is a great party and the interests of our beloved state must always supersede that of any person or group.
"It is in this regard that I wholeheartedly congratulate the winner of the Lagos state APC primaries," he said.
"As governor, I will do everything possible to ensure a smooth transition in the remaining period of this administration and ultimately to the new governor, come May 2019," he added.
At the last presidential election in 2015, Buhari narrowly won Lagos with 54.9 percent of the vote.
Politics in Nigeria is characterised by patronage and politicians easily change parties when their personal interests are threatened.
Buhari faces a formidable challenge from the main opposition Peoples Democratic Party (PDP) which will this weekend pick a flag-bearer from an array of candidates, including former vice president Atiku Abubakar and Senate president Bukola Saraki.