Be Wary Of Chinese Loans - USAID Boss Warns Gov't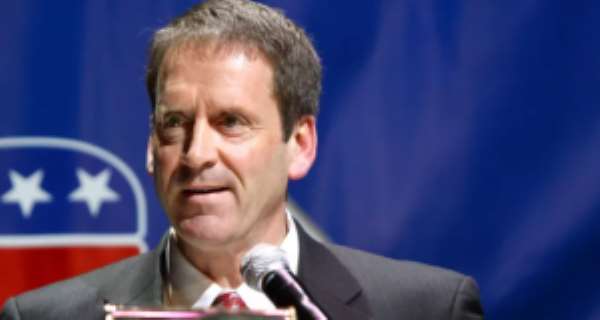 The Administrator of USAID, Ambassador Mark Green, wants government to be wary of Chinese aid as it pursues a Ghana Beyond Aid agenda.
According to Ambassador Green, who is part of US First Lady Melania Trump's delegation that visited Ghana, the Chinese model of loan assistance rather than humanitarian aid that lifts people out of poverty exposes the Chinese agenda towards the continent.
Statistics from 2015 show that the US was the largest single donor country of foreign aid in the world.
The Security Assistance Economic Aid dashboard from 2017, showed the US spent $18.25 billion in economic aid to 92 recipients, and $18.23 billion in security aid to 143 recipients.
China on the other hand is secretive about the total amount it spends on foreign aid, but the Brookings Institute says the Asian superpower is climbing up the aid ladder.
Speaking exclusively to Citi News' Godfred Akoto Boafo, Ambassador Green said the Chinese model was self serving.
"I would love China to step up and help on humanitarian needs. I do not think they are helping on humanitarian needs. I have not seen it. When I went Ethiopia to distribute food in the Somali region of Ethiopia going into its fourth consecutive year of drought, I saw assistance from a lot of places, I did not see any humanitarian or food aid from China".
"There are two very different models. The American model is designed to build self reliance. We want countries to able to lead themselves. All too often the Chinese model serves china and what China often does is build big debts, tie up natural resources. At the end of the day China is not looking for independence, we are. We want every African nation to move from assistance recipients to become partners. We want them to join with us to help in lifting mankind. Very different from what they are doing in China."
US willing to help achieve Ghana Beyond Aid vision
Mark Green also said the US government is prepared to work with government to achieve its Ghana beyond aid agenda.
"When we heard President Akufo-Addo speak on Ghana beyond aid, I immediately thought we are singing the same song and we are approaching things in the same way. During this trip, we have met the Vice President and also the Ghana beyond aid committee to talk about ways we can help to make this happen."
"So it's taking on issues like domestic resource mobilization and doing what we can to walk by Ghana's side. Ghana must lead because it is Ghana's journey, but as a long time friend of Ghana, we believe we can walk with them along the way. To us that is what Ghana beyond is about. It is good friends working together to find ways to make government effective, but most importantly to find ways for people to lead themselves to a better future"
USAID spends over $160 million dollars annually in the country on several programs in Ghana focusing on education, health and private enterprises.