MTN Brightens The Lives Of Customers On Emirates Flight A380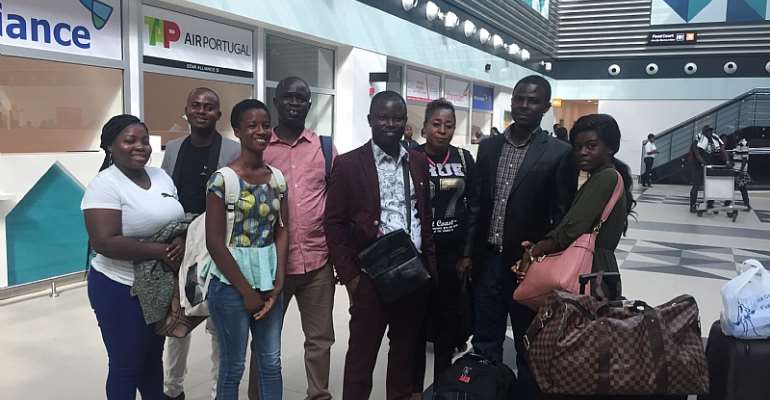 Accra 2nd October 2018. MTN Ghana is set to delight its customers today as Ghanaians welcome for the first time the world's largest passenger plane, the Airbus A380 to terminal 3 at the Kotoka International Airport. Today, five customers of MTN Ghana who will be travelling economy class on Emirates will have their tickets upgraded to Business Class while other selected customers on the same flight will enjoy a 70% discount on their tickets.
In addition, 4 customers who emerged winners of the trip to Dubai in the May-June editions of the MTN 'Spin the Wheel Promotion' will also travel with their partners to Dubai for a fun trip. As part of the package the winners and their partners whilse in Dubai will visit several several tourists attractions and places of interest including Yas Island, Ferrari Park, "Haunted Hotel" and the World's Largest Indoor Theme Park.
Commenting on the partnership between Emirates Airlines and MTN, the Ag. Chief Marketing Officer, Mr. Noel Kojo Ganson expressed his excitement at the opportunity MTN was offering customers. He said, "MTN as a global brand in telecommunications is happy to provide great experiences on Emirates Airlines, which is one of the world's most valuable airline brands".
He added, "MTN Ghana has as one of its corporate values, the Can-Do spirit, to this end MTN always commits to empowering its customers to make things happen. This is just one of several ways we seek to reward our loyal customers – a flight on the world's largest passenger plane is one to cherish and we are happy to be giving our customers such an opportunity and experience".
An MTN customer, Patience Bempong who was travelling to Australia with her husband and son and got their tickets upgraded to business class could not hide her joy as she expressed her gratitude to MTN for the gesture. "We will travel to Australia in utmost comfort and I am happy about that", she said.
The Airbus A380 is a double-deck, four engine jet airliner manufactured by Airbus. It is the world's largest passenger airliner and the airports at which it operates have upgraded facilities.
Futher to the Airbus A380 rewards, MTN Ghana in partnership with Emirates Airlines will reward three (3) customers with free tickets to watch the FA cup quarter finals in London in April 2019. Additionally, selected MTN customers who book flights with emirates and travel within the promo period will get 30% discount. The promo starts from the 1st October, 2018 and runs till 28th February 2019.
About MTN Ghana
MTN Ghana is the market leader in the increasingly competitive mobile telecommunications industry in Ghana, offering subscribers a range of exciting options under Pay Monthly and Pay As You Go Services and Mobile Financial Services. The company has committed itself to delivering reliable and innovative services that provide value for subscribers in Ghana's telecommunications market. Since its entry into Ghana in 2006, MTN has continuously invested in expanding and modernizing its network in order to offer superior services to a broad expanse of the nation. MTN Ghana is a listed company on the Ghana Stock Exchange.