ASEPA Warns Akufo-Addo Against Purchasing New Presidential Jet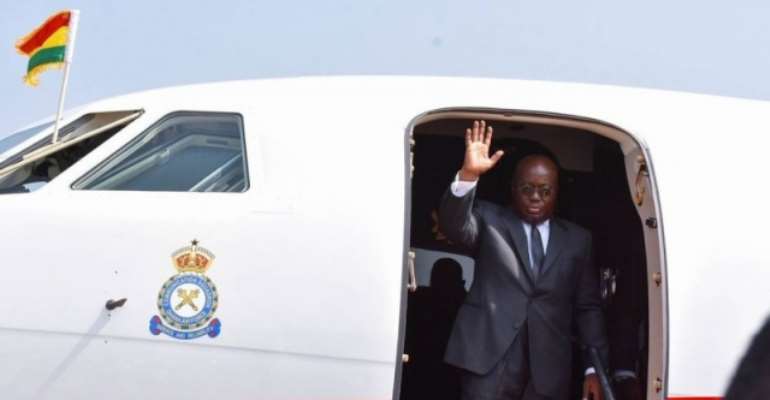 The Executive Secreatary of pressure group, Alliance for Social Equity & Public Accountability (ASEPA), Mensah Thompson has cautioned the government not to attempt to purchase a new presidential jet.
He told Kwame Minkah, host of Ghana Te sen On Radio XYZ 93.1 Tuesday that, their investigations reveal there are "deliberate exaggerations to set the stage for the purchase of a new Presidential jet."
His comments follow news of a near fatal plane crash involving the president and his entourage enroute to Accra from U.S after the Presidential aircraft developed a fault in Washington, after participating in the recently held UN General Assembly meeting.
The aircraft had to fly around a number of times to burn fuel before being assisted to land, government announced on Sunday.
Arrangements were then made for the president and his team to return to Ghana on a commercial flight.
This is not the first time the presidential jet has had challenges.
In March 2015, the Presidential Jet caught fire while attempting to take off from the Kotoka International Airport.
Although the Information Minister, Kojo Oppong Nkrumah, at a press briefing after the incident, had stated on Sunday that the president had no intentions to order for the purchase of a new jet, ASEPA alleges there are plans by the presidency to "use the media" to court public sympathy for the president after his near fatal crash and "ride on it to request for a new presidential jet."
Asked if it was not worth it for the taxpayer's money be used to purchase a new jet in quest to protect President Akufo-Addo, Mr Thompson said the economic state of the country will not favour such act, adding that the jet could be repaired.
"At this time the economy is not good, the president should use a commercial aircraft," he said pointing out that Mr Akufo-Addo will be putting himself first if a new presidential jet is bought.
"If the economy is in crisis and times become hard for citizens, you don't put yourself first. In the meantime, until he (president) takes steps to stabilise the economy and bring the needs of the people to them, you also need to put yourself under some constriant…Before we purchased a presidential jet, presidents used to travel aboard commercial aircrafts. At this moment, it's a luxury and we cannot afford it," said Mensah Thompson.