Management of First Allied Savings and Loans say they are working assiduously to release their customers' funds to them.
Public Affairs Manager of the company, Jones Owusu said panic withdrawals following the consolidation of five banks months back if affecting them.
Customers of the company in the Ashanti regional capital, Kumasi on Tuesday embarked on a demonstration to demand the payment of their funds.
According to the customers, for more than four months, they have tried unsuccessfully to retrieve their monies without success.
"Anytime we go to them, they say, we should come back at the end of the month so there is no money. That's been going on for some five months now," one of the demonstrators told Joy News at midday.
But First Allied says it is not deliberately keeping the customers' cash and refusing to pay.
It appears the recent crisis in the banking sector is taking a toll on the Savings and Loans Company.
He said following the incident, many of its customers have rushed to withdraw their savings, making it difficult for the company to make any meaningful investments and make returns that will allow it pay the remaining clients.
Mr Owusu the crisis has also resulted in many people holding on to their monies, "people want to be sure that the bank will survive before they put their monies there."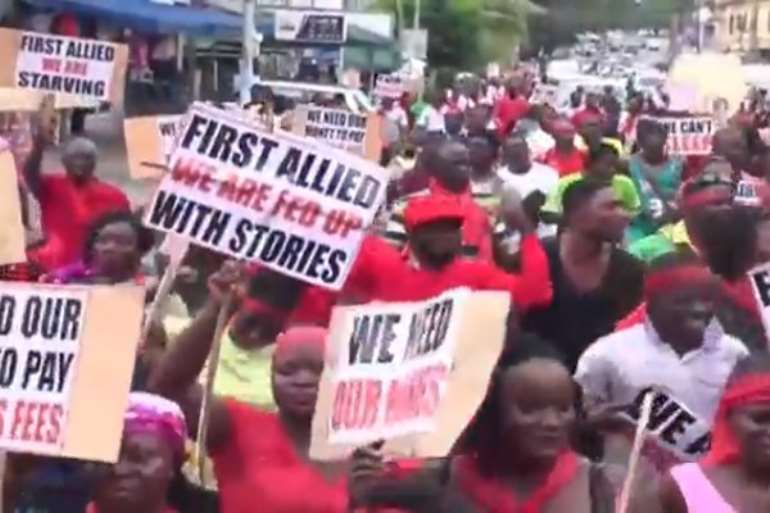 The company, Owusu says has consistently told their clients about the challenges their facing and is surprised that amidst all the openness, the clients decided to embark on the strike.
"I don't understand why they started this demonstration again, we have been affected by the panic withdrawals but we are working very hard to get them their money," he said.
He was, however, unable to give a specific date when the monies will be ready.