NDC UK/Ireland Chapter holds post election thanksgiving and reconciliation conference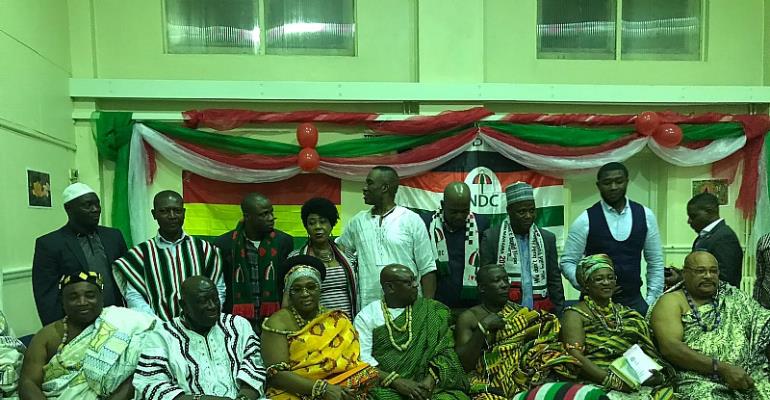 The UK/Ireland Chapter of the NDC held a post-election reconciliation conference on 29th September 2018 after the hottest contest in the history of the Chapter.
Party members from the various branches of the Chapter attended the conference.
The reconciliation conference also brought traditional and religious leaders who admonished members on the need to put away ill feelings and post-election apathy and to pull together to work hard to bring the party back to power.
They reiterated the need for the party's interest to be placed above all other parochial interests.
The current Chapter Chairman, Alhaji Alhassan Mbalba after introducing his executives to the gathering spoke on the need for all members to move past the elections and work to achieve success for the party both in the UK and in Ghana.
He urged members to close their ranks and guard against infiltration by the NPP.
The former vice chairman of the Chapter, Dr. Joe Owusu- Agyemang also added his voice to the unity call.
Using himself as an example, he said though he lost the chairmanship contest, he has put everything behind him in the bigger interest of the NDC and come on board to support the current executives to succeed and to contribute to the overall victory of the party in 2020.
He asked all other contestants who were not successful at the last elections to come on board to offer their experiences and support to the current executives.
His speech was greeted with a lot of applause.
A former deputy National women's Organiser and immediate past deputy Women's Organiser of the Chapter, Hajia Salamatu Kuntey also gave a motherly and conciliatory speech.
Also at the conference was a former member of Parliament and a former Municipal Chief Executive.
At the end of the conference, it was obvious the UK & Ireland Chapter was renewed and poised to work together to bring the NDC back to power and save the country from the countless corruption scandals and nebulous policies of the clueless Akufo Addo/Bawumia led NPP government.
.............Signed..........
Communication Officer
NDC UK/Ireland Chapter