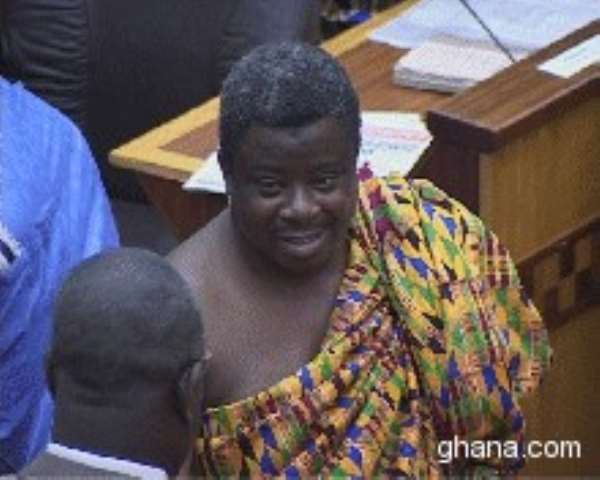 Fiapre(B/A),Oct.24, GNA - Mr. Kwadwo Adjei-Darko, New Patriotic Party (NPP) Member of Parliament for Sunyani West will not contest for the seat in 2008.
Mr. Adjei-Darko, former Minister of Roads Transport and Local Government and Rural Development in the first tenure of the NPP, announced this at the Constituency's congress to elect new officers at Fiapre, near Sunyani.
He however, pledged to support any candidate elected to represent the Constituency in 2008.
Mr. Adjei-Darko cautioned the delegates against favouritism and make wise choices in the election of Constituency and National executives.
"You must choose those whom in your right estimation can steer affairs of the party successfully since our failure to choose marketable candidates would not augur well for the party in 2008."
"Let me tell you, if we make a mistake and allow NDC to take power, there is no doubt that the economic progress achieved under the NPP Government would become stalled, bringing untold hardship to not only members of the NPP but all Ghanaians," He said.
Mr. Adjei-Darko called on members of the party within the Constituency, comprising Chiraa, Nsoatre and Fiapre zones, not to be deceived by the blatant lies being peddled by opposition political parties.
Mr. Anthony Kusi, Brong-Ahafo Regional Secretary of the NPP advised the youth within the party to disabuse their minds about not having any gains from the party.
"Provision of school furniture and other infrastructure in the country should be the general yardstick to determine the Government's performance," He said.
The elected officers were, Mr. Collins Tabiri Baidoo, Chairman, Mr Amankwah Agyei, First Vice-Chairman, Nana Amoah Mensah, Second Vice-Chairman, Mr. Ampaabeng Kyeremeh Boosman, Secretary, Mr. Boakye Boateng, Assistant Secretary, Mr. Kofi Asante, Organising Secretary, Ms. Mary Acquah, Women's Organiser and Mr Asare Yeboah Swapo, Youth Organiser.