Ghanaian Pilot To Land Biggest Plane @ KIA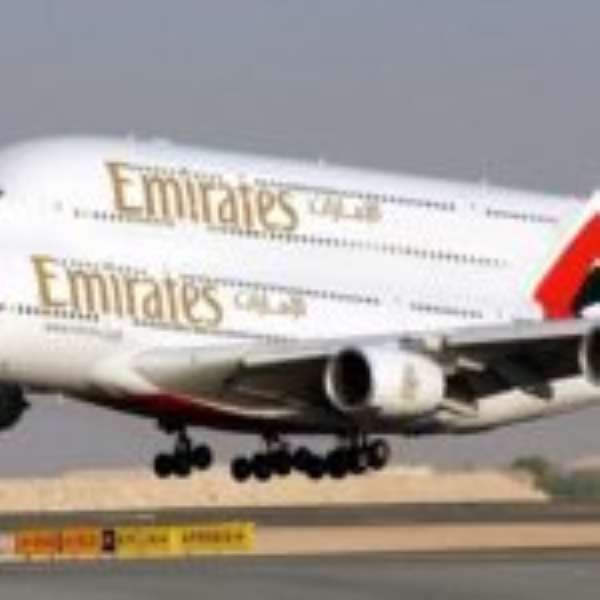 The Kotoka International Airport (KIA) would, on Tuesday, October 2, 2018, witness the landing of the largest commercial aircraft ever in the history of the airport.
Designed with various features for passenger comfort, including spacious passenger cubicles, the United Arab Emirates Airbus 380 is making an inaugural flight to the KIA, and is to be piloted by a Ghanaian.
This feat would also signal to the rest of the world that any aircraft of any size can now land at the KIA, contrary to the notion that facilities at the airport are inadequate to accommodate larger aircrafts.
The Managing Director of Ghana Airports Company, Mr. John Attafuah Dekyem, who disclosed this on 'Girls In Aviation Day' last Saturday at the Kumasi Anglican Senior High School (KASS) auditorium in Kumasi, said there are lots of Ghanaian professionals in the aviation industry worldwide, and hoped the increase in both international and domestic aviation industry players would also lead to an increase in passenger volumes.
'Girls In Aviation' is the younger version of 'Women In Aviation International', a non-profit making organisation which is dedicated to providing networking, mentoring and scholarship opportunities to women and girls who have the passion for pursuing careers in the aviation and aerospace industry.
The Special Guest of Honour, Lady Julia Osei Tutu, wife of His Royal Majesty Otumfuo Osei Tutu II, the Asantehene, disabused the minds of females that careers in the aviation sector are solely a preserve for males, and hoped many of the participants would find an inspiration at the end of the mentorship programme to aspire for careers in the aviation sector.
Lady Julia said education and empowering females elevate not only the individual, but the larger society, stressing that that is what the Otumfuo Foundation is doing by encouraging young women to venture into various areas of the professional world.
She said the Otumfuo Foundation gives scholarships to needy and brilliant students, awards teachers for dedication to duty, and donates books to institutions among others, emphasising the need to educate the young ones if Ghana is to develop as a country.
Lady Julia advised the young women to be wary of whatever decisions they make today or friendships they develop today, because that would impact on their lives in the future, and expressed gratitude to the organisers for bringing the programme to Kumasi.
The President of WAI Ghana, Mrs. Juliet Aboagye-Wiafe, explained that the WAI has about 1,600 active members worldwide, and represented in 66 countries with 101 local chapters, which membership comprises of professional pilots, military personnel, astronauts, aircraft manufacturers, air traffic controllers and engineers among others.