The Central Command of the Ghana Army on Friday, 28 September 2018, held Inter-Unit Drill Competition for Units under its Command at the 4BN Parade Square, Complex Barracks-Kumasi. The objective of the competition was to sharpen the foot and rifle drills of personnel with the aim of providing them with the basis for team work and general military discipline as well as developing the leadership skills of its officers and non- commissioned officers.
Headquarters Central Command (Camp- Kumasi), 3 Infantry Battalion (3BN- Sunyani), 4 Infantry Battalion (4BN- Kumasi) and the 2 Independent Reconnaissance Squadron (Sunyani) were the units that participated in the competition. The competitors were accessed on the parameters of accuracy of words of command, turn out of troops, marching on and off the square and the various sequences of foot and rifle drills.
The Headquarters Central Command (Camp) Contingent was adjudged the best in foot and rifle drills in the Competition with 3BN, 2 Recce and 4BN taking the 2nd, 3rd and 4th places respectively. Competitors took away trophies, certificates and cash prizes.
In his remarks, the Ashanti Regional Minister, Honourable Simon Osei Mensah, who was the Guest of Honour said he was delighted with the performance of the participants. He congratulated HQ Central Command (Camp) for emerging winners and commended the other units for a keenly contested competition. He entreated personnel to keep up the team work which promotes comradeship and espirit de corps among troops. He mentioned that this same team spirit which has been exhibited on the square should guide troops in the performance of their duties especially in helping the civil police combat crime in their areas of responsibilities. He ended his speech by commending the drill instructors whose hard work made it possible for all present to observe the spectacular display by the contingents.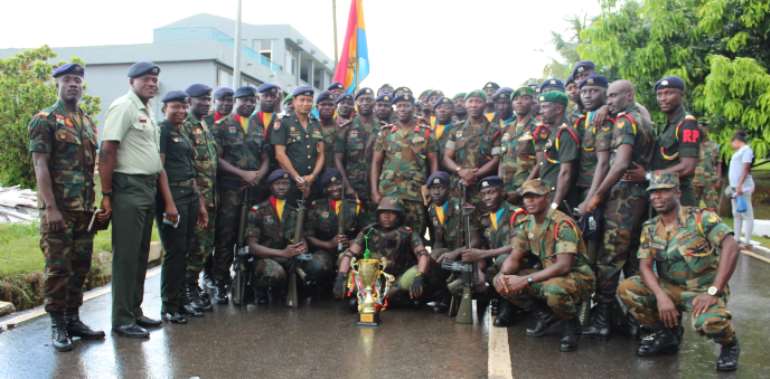 The competition brought together personnel of the units under command, their families, ex-servicemen, sister security services and students from 1st and 2nd cycle institutions as well as the general public. They were treated to a good display of military foot and rifle drills.