Akufo-Addo Should Avoid the Santa Claus Blunder of 2008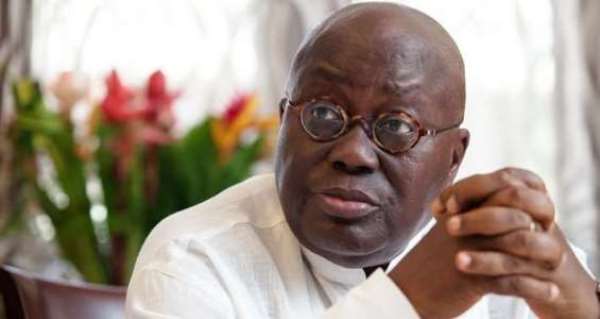 The Asante Regional Chairman of the National Peace Council, Prof. Seth Opuni Asiamah, may be reacting disingenuously and gratuitously to the public claim by the Independent Special Public Prosecutor, Mr. Martin ABK Amidu, that the latter is not getting the requisite assistance that he direly needs to effecyively execute his official mandate (See "Taking Salary Without Working Is Corruption – Martin Amidu Told" Starrfmonline.com / Modernghana.com 9/28/18). You see, before he stakes out the rather presumptuous claim that Mr. Amidu has been availed with all the necessary basic incentives for effectively performing his duties, and that the Special Prosecutor is simply not up to snuff or par with the job, as it were, Prof. Asiamah ought to be able to tell us precisely what such incentives or basic tools are before proceeding to conclude that the Special Prosecutor has become or is already an epic failure. Prof. Asiamah cannot facilely assert that it is Mr. Amidu who needs to put in place the necessary implements or processes to enable him to work successfully and desirably.
For starters, the former Atta-Mills-appointed Attorney-General and Minister of Justice has categorically and publicly stated that evidentiary documents that he direly needs to successfully prosecute established cases of official corruption are being stiffly denied him by some cabinet or ministerial appointees of the Akufo-Addo Administration. Now, what Prof. Asiamah needs to do is to personally find out precisely who these apparently ardent Akufo-Addo detractors are, and the fact of whether, indeed, any such willful and vicious detractors exist at all. And then matters could be taken up from this point. Self-righteously and gratuitously contradicting the Special Prosecutor without presenting any substantive evidence to the foregoing effect, makes the Peace Council capo complicit in the apparent shenanigans by the internal detractors of the Akufo-Addo Administration. But, of course, even more significant if for the Special Prosecutor to promptly take up this most crucial and critical matter with President Addo Dankwa Akufo-Addo and Attorney-General Gloria Akuffo.
Merely complaining bitterly and publicly, largely out of a quite understandable frustration, may briefly let the public in on some of the teething problems he has had to face on his most significant and sensitive job and even score him some cheap political points in the short term, but it does not paint a delectable portrait of the hitherto very popular "Citizen Vigilante." To be certain, such very public plaint actually impugns the professional integrity and administrative competence of the man. Nevertheless, it is equally disingenuous for Prof. Asiamah to assert that Mr. Amidu is a career politician and an experienced insider who knows the inner workings of the country's criminal justice and judicial system. That may perfectly be an accurate assessment to make, but it does not negate the fact that the one-time Vice-Presidential Candidate of the main opposition National Democratic Congress (NDC) is decidedly not an insider of the Akufo-Addo-led government of the New Patriotic Party (NPP).
This problem must have reared its proverbial ugly head primarily because Nana Akufo-Addo may have blundered by playing the sort of counterproductive all-welcoming Santa Clause that he played in the wake of the NPP's 2007 presidential primary, when he facilely and indiscriminately brought most of his political rivals and ardent internal political opponents and detractors into his 2008 presidential campaign. This woefully uncritical conciliatory decision would haunt Candidate Akufo-Addo for the next two electoral seasons or cycles, as the overwhelming majority of these miscalculated and mistaken ideological loyalists and associates came to envisage the former Justice and Foreign Minister as a veritable stumbling block to their several and collective presidential ambitions.
What Nana Akufo-Addo clearly needs to do right now is to have Mr. Amidu promptly and categorically name all those cabinet and non-cabinet executive appointees who have allegedly been giving the Special Prosecutor the run around and forcefully crack the whip; which means that either these administrative bottlenecks and veritable political nuisances promptly shape up or have President Akufo-Addo promptly ship them out and progressively move the country ahead.
*Visit my blog at: kwameokoampaahoofe.wordpress.com Ghanaffairs
By Kwame Okoampa-Ahoofe, Jr., PhD
English Department, SUNY-Nassau
Garden City, New York
September 28, 2018
E-mail: [email protected]