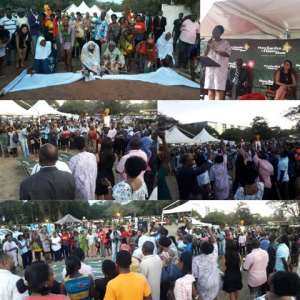 The 2018 edition of the Ghana Garden and Flower Show has ended in Accra, recording more exhibitors and visitors as compared to the previous years.
During the entire seven day duration of the fair, over 21, 000 patrons trooped to the Efua Sunderland Children's Park, compared to last year's 16,000 and 14,000 visitors in 2013, to catch a glimpse and admire the beauty embedded in gardens and flowers, whilst others purchased the beautiful natural flowers.
Madam Esther Cobbah, the Convenor of the Ghana Garden and Flower Movement, organisers of the show said the number of boots for the exhibition increased from 139 last year to 150 this year, which showed the growing public interest in the sector.
She said from all indications, it was evidenced that Ghanaians loved flowers and were committed to a greener, cleaner, healthier, wealthier and more beautiful country, adding that, the Creator of the Universe loved humanity so much that he provided beautiful gardens and flowers for various uses.
She said the essence of the Ghana Garden Flower Movement is to assist in the cultivation and preservation of the gardens, flowers and plants that God has provided humanity.
Madam Cobbah, who is also the Chief Executive Officer of Strategic Communications Africa (Stratcomm Africa), said prior to the opening of the show this year, there were request to extend the show, so 'we added two more days to it'.
Mr Richard Oduro, a Representative of the Mayor of Accra Metropolitan Assembly, commended the Ghana Garden and Flower Movement for its commitment towards preserving the natural environment.
He pledged the commitment of the Assembly towards working with the Movement to ensure a greener Accra, as the Show fell in line with the Assembly's agenda of greening the capital city.
Mr Oduro said the Assembly had engaged in significant conversations with the Convener of the Movement and assured of working with the movement to achieve a greener and better country.
The Ghana Garden and Flower Show is a flagship activity of the Ghana Garden and Flower Movement, initiated by Stratcomm Africa, with the first edition in August 2013.
The 2018 edition was launched on September 10 and opened on September 20, this year, to once again bring together all stakeholders of the sector and create awareness on the need to preserve gardens and flowers.