Re: NDC Vigilante Group The Hawks Chased Judge Out Of Court, Beat Up B/A Deputy Regional Youth Organizer And Others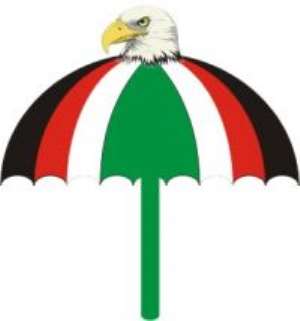 The Brong Ahafo NDC Youth wing is shocked with Bawumia's lies being transmitted into the blood vessels of the NPP Brong Ahafo Regional Youth wing.
It is very unfortunate because the statement is coming from the office of a gentleman, Michael Osei Boateng the Npp Regional Youth Organizer.
The statement issued by the Npp Youth wing shows that they are immature in handling issues of public interest.
It shows how afraid they are of our protective groups which we promised to form in all the 29 constituencies.
The NDC Brong Ahafo Regional Youth Wing wish to inform all in and outside the Brong Region to disregard the misinformation by the Npp circulating about the Hawks attacking a court and beating Npp deputy Regional Youth Organizer.
THE FACTS:
1.There was a court Case that involved our constituency treasurer Hon.Osman Mohammed during the limited registration exercise in Kenyase. The case which was heard by the Duayaw Nkwanta circuit court on 27/09/18.
2.The NDC Regional Chairman, Organizer and Communication officer were present in the court with our Lawyer.
3.The judge after series of plea from our lawyer for a bail to be granted to our brother in his own wisdom decided to remand our brother.
4.The Brong Ahafo Regional Chairman, H.E Nyamekye Marfo left the court in Duayaw Nkwanta with his team to Sunyani after the ruling by the Hon. court.
5.We are even shocked why two people should engage in a fight and the one who reported himself to the police arranged before the law court and the other left to walk freely because he is Npp card holder.
The Brong Ahafo Regional Youth Wing wouldlike to state clearly that:
1.There is no vigilante group in Brong Ahafo Region related to NDC called the Hawks.
2.There was no occasion that our boys were bused to Duayaw Nkwanta to cause mayhem. It is normal for politically motivated case like this to attract party supporters but no one disturbed the peace of the court, a fact that could be checked from the Duayaw Nkwanta Circuit Court.
3. There was no incident of misunderstanding in the court which could have resulted in beating up a judge.
4.According to records at the Duayaw Nkwanta Circuit Court and the Police report, none of such incident happened in Duayaw Nkwanta as claimed by the Tramadol infested statement issued by the Npp Youth wing.
5.We wish to challenge the so called deputy Regional Youth Organizer who claimed was assaulted to produce evidence of his attack and immediately report to the nearest police station nearer to him.
6.We can say on authority the statement by the NPP Youth wing is a complete fallacy and fabricated lies which has no iota of truth in it and must be disregarded.
We are not surprised because even if their Regional Vice chairman could fake his beatings just to attract public sympathy then their deputy Youth Organizer could do worse just to get popular in the political landscape but thank God they have been exposed by Ghana Police and the Law court.
We were told they wanted an equaliser for what their "Delta forces" did in Kumasi High court but i wish to advice them to look for another trick because this particular one was planed by their Tramadol abusers.
The NDC Youth wing is also very much disappointed in the Ghana Police service because we are shocked they have suddenly found their handcuffs to get our people arrested and quickly arranged before court.
Have they arrested the Npp thugs who beat up their own colleagues who were on patrol and seized their cars and guns for robbery in Sankore?
Have they arrested those who beat up members of the peace council and threatened them with cutlasses just last week at a peace program organized by the peace council to mark the world peace day?
Have they arrested those who attacked Hon. Eric Opoku in his home and destroyed properties that runs into thousands of Ghana cedis?
Have they arrested those who chopped peoples head with axe and cutlasses?
The same incident which led to the arrest of our boys happened in Kukuom but no action was taken.
We wish to tell Ghana police that we the NDC Youths are above intimidation and we won't sachem to their whims and caprices. We are law abiding citizens but will resist any attempt to any selective Justice as been practiced by the Ghana police in Brong Ahafo Region.
We shall continue to listen to our leaders and will do what is bucked by the laws of the land but will resist any form of intimidation from either the police or the Npp in the future.
I wish to advice my brothers in Npp that they should give heed to the public Education GH. One is championing and stop abusing Tramadol to prevent such a disgrace in the near future.
Thank You.
SIGNED:
1. Efo Worlanyo TSEKPO
REGIONAL YOUTH ORGANIZER
📞0247046008
2. Owusu Ababio
DEPUTY REGIONAL YOUTH ORGANIZER
📞0547190020
Kwaku Ronnie
DEPUTY REGIONAL YOUTH ORGANIZER.
📞0508190144