Ejura-Sekye Dumase: 8,000 Kids Benefit From ICT Centre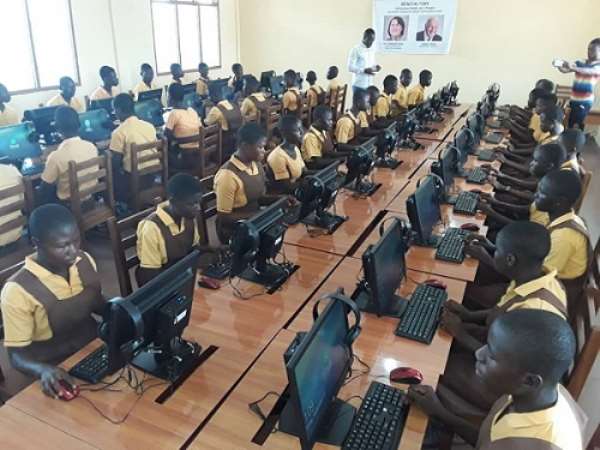 Students using the new computers
Two Non-Governmental Organisations (NGOs), Friends of Yamoransa Foundation and Helping Africa Foundation, have established an Information Communication Technology (ICT) Centre in the Ejura-Sekyedumase Municipality of the Ashanti Region.
More than 8,000 school children from Betenase, Sekyedumase, Apaaso, Ayinaso, Drobon, Frante and Juaho would have access to the internet which has become fundamental to modern communication.
A video on social media in which a teacher of the Betenase M/A Basic School, Richard Akoto Appiah was seen using a sketch to teach his students ICT encouraged the NGOs to establish the ICT centre in the area.
Speaking at a ceremony to commission the ICT Centre at Betenase, President of Friends of Yamoransa, Dr Deborah Rose, said access to ICT can enhance the lives of rural dwellers, provide information, deliver public services and disseminate information.
According to her, there was the need for both NGOs to establish the ICT centre for the school children since young people are increasingly using ICT and technology as learning tools.
She said the 48-seater centre would help bridge the gap between the wealth and less privileged in the municipality.
Dr Rose revealed that the two ICT centres had been provided in communities in Central, Greater Accra Regions, asserting that they are interest in "rural computing" throughout the country.
Municipal Chief Executive (MCE) of the area, Mohammed Salisu Bamba, on behalf of the beneficiary communities, expressed gratitude for the kind gesture and asked other organisations to emulate the shining example of the Friends of Yamoransa Foundation and Helping Africa Foundation.
The Ejura-Sekyedumase Municipal Director of Education, Patrick Ofori, urged teachers to be innovative and ingenious just like Richard Akoto Appiah to bring about change, appealing to them to complement the efforts of government.
The event was graced by the chief of Ejura-Sekyedumase, Nana Antwi Boasiako.