AMA Intensifies Campaign To Green Accra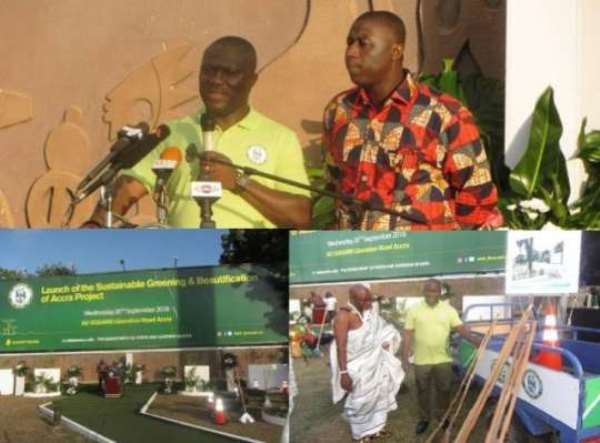 Mr Mohammed Adjei Sowah, the Accra Metropolitan Chief Executive (MCE), has called on corporate institutions to join in the awareness creation campaign for the Green Accra Project.
He said planting of green grass and flowering of available land spaces made cities attractive and urged corporate bodies to accept the challenge to continue with the greening of their environment.
Mr Sowah made the call in an interview with the Ghana News Agency at the launch of the Sustainable Greening and Beautification of Accra Project, which the Accra Metropolitan Assembly (AMA) is undertaking in partnership with the Department of Parks and Gardens.
He said the world was saddle with challenges of climate change, which was affecting water bodies and air quality, hence the need to adopt the greening approach to enhance the lives of the people for sustainable development.
Mr Sowah said immediate action would be taken to bring stakeholders together to assist the AMA to improve on all available land spaces, which had been taken over by squatters in Accra, to enhance the city's resilience to climate change.
'Organisations such as the Ghana Commercial Bank, Ecobank, the Church of Jesus Christ of Latter Day Saints, and other businesses who have owned spaces in Accra are leading to ensure that the Green-Accra Project becomes a reality," he said.
"I am moving towards the direction of making Accra clean and to introduce smartness and sustainable technologies to ensure that open spaces in the Metropolis impact positively on the people."
Mr Immanuel Nartey-Tokoli, the Managing Director of Jekora Ventures, a Waste Management Company, told the GNA that greening needs planting of grass, trees, and flowers to produce oxygen for humans and make the soil fertile devoid of fungal diseases.
"This is the support we want to give to the AMA towards the realisation of a more just, equitable and sustainable greening project in Accra," he said.