Donkorkrom: Reading Festival Held For Schools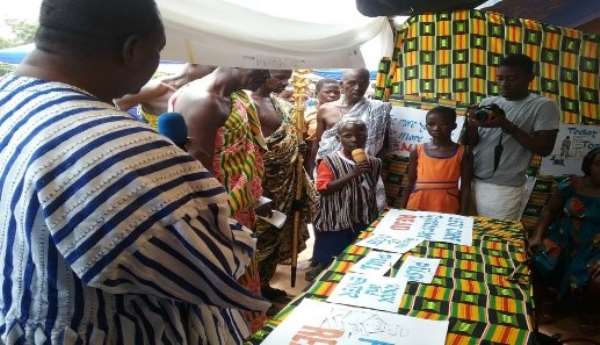 The Kwahu Afram Plains North District Education Directorate in collaboration with UNICEF have organized Reading Festival for pupils in the lower primary level to inculcate in them the habit of reading.
The program supported by the Government of Ghana and the USAID is a five- year policy programme organized annually for schools to encourage reading among children in the early grades of primary education.
The schools that participated in this year's reading programme included Ntonabo Presbyterian Basic School, Attakora, Kofi Yeboah D/A schools, Mem-Chemfe R/C Primary among others.
Speaking at the programme, Mr Joseph Cudjo Bebaako, the District Education Director, explained that the overall target of the programme was to improve reading skills of 2.8 million Ghanaian primary school pupils by the end of the five-year project.
He noted that the policy targeted the training of 51, 000 teachers in reading instructions, strengthening government education systems at local and national levels, supporting special needs in education and engaging parents and communities.
Mr Bebaako explained that the backbone of every successful students leans on his or her reading ability and urged the pupils to often practice reading after school hours to enable them improve upon their performance.
He said the directorate was ready to increase the number of schools in the District to participate in the programme to ensure more of the student's participation to help develop their potentials.
Mr. Bebaako therefore urged the headteachers to add reading as a subject to their timetable to guide the students.
Mr Samuel Kena, the District Chief Executive (DCE) entreated parents to choose good books for their wards in order to encourage them to make their books their companions.