Opposition cries foul in Nigeria governorship runoff vote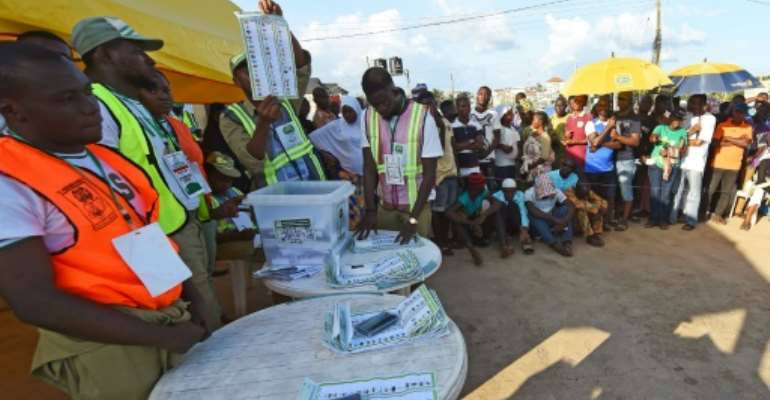 Nigerian opposition parties cried foul late Thursday as the country's electoral commission failed to publish official results for runoff governorship elections in the southwestern Osun state.
The vote is the final major test before Nigerians elect a new president, parliament, governors, and state legislatures in February and March next year.
Forty-eight candidates from different political parties contested the election last Saturday.
But the leading candidates were Gboyega Oyetola from President Muhammadu Buhari's ruling All Progressives Congress (APC) and Ademola Adeleke of the main opposition Peoples Democratic Party (PDP).
An unofficial tally had shown the PDP's flagbearer leading his APC counterpart by some 350 votes, while there were more than 1,000 voided votes.
Under the country's electoral law, no winner can emerge if the margin of victory is less than the cancelled votes.
A runoff was declared Sunday after the head of the Independent National Electoral Commission (INEC) in Osun said the election was inconclusive because "the number of cancelled votes is higher than the margin between the two top candidates."
The fresh round of voting took place amid high tension on Thursday.
PDP supporters claimed they were prevented from voting and posted videos on social media which they said portrayed skirmishes with the security services.
Even before the results were announced, President Buhari's personal assistant Bashir Ahmad took to Twitter to "congratulate" his party on winning, inviting the ire of the opposition.
"What is happening in Osun State now is not an election. What we have is a coup. That is what we are witnessing now," Adeleke told local media.
"Our supporters are being harassed and are not allowed to vote at all. Let the whole world know that this is not the democracy," he added.
The police, meanwhile, said in a statement it wished to "debunk reports that some accredited INEC observers were arrested or denied access to polling units".
Although there were widespread concerns about vote-buying, intimidation and logistics problems, Saturday's vote was generally adjudged free, fair and violence-free by local and foreign observers who monitored the exercise.