Lets Chart A New Course--Akufo-Addo To UN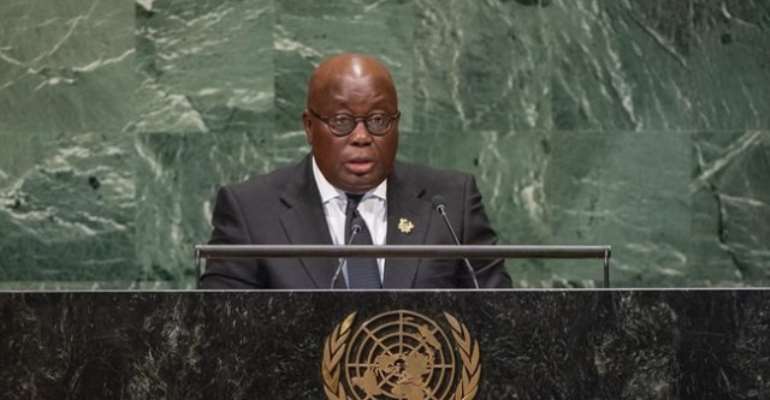 President Akufo-Addo yesterday trumpeted a new way of doing things in order to achieve results when he took his turn at the United Nations (UN) General Assembly.
According to the President, traditional methods of tackling problems will not provide the answer, as Ghana is looking for new ways to resolve them.
"We, in Ghana, must build roads, bridges, railways, ports, schools, hospitals, and we must create jobs to keep our young people engaged. It's obvious to us that the mode of development trajectory we had been on for many decades is not working. We are trying a different one, and we would appreciate the support and goodwill of the world, especially in helping to stem the huge flow of illicit funds from the continent," he stated.
Speaking at the 73rd Session of the UN General Assembly in New York, President Akufo-Addo stated that it was in the interest of everybody that countries counted among the poorest of the world make rapid transformation from poverty to prosperity.
"We are determined in Ghana, and increasingly in more and more parts of Africa to chart our own paths to prosperity, and pay our own way in the world. We are no longer interested in being a burden on others.
"We will shoulder our own responsibilities and build societies and nations that will be attractive to our youth. We have the necessary sense of
enterprise, creativity, innovation and hard work to engineer this transition, hence our vision of a 'Ghana Beyond Aid' and indeed of an 'Africa Beyond Aid'," he added.
President Akufo-Addo said in order to change the narrative of the continent, Ghana, like many countries in Africa, is forging new alliances with a nation like China, which in itself is not a uniquely Ghanaian or African phenomenon.
President Akufo-Addo added that "rich and well established countries have been paying regular visits to China, and seeking to open new economic
ties and improve upon existing ones.
He allayed the fears of some people about the possibility of the recolonization of the African continent by a new power,
stressing that history does not support it.
"It was at the turn of the 20th Century that China's first railways were built by Western companies, financed by Western loans to a nearly
bankrupt Qing Dynasty, and it was under those circumstances that a certain strategic port called Hong Kong was leased for 99 years, and the rest
as the saying goes, is history," the President said.
He said: "Today, the former victim of Western Railways imperialism is lending billions to countries throughout Asia, Africa and Europe to construct not only railroads, but also highways, ports, power plants and other infrastructure, and many businesses.
Educated Population
While acknowledging that Ghana is getting her population educated and trained, the President said that "at the same time, we must address our infrastructural deficit."
UN Reforms
The President stressed the need to reform the UN to better suit the present-day needs of the world.
According to President Akufo-Addo, when some of the nations of the world gathered in San Francisco 73 years ago, and signed the landmark document that created the UN, it was a very different world, explaining that "it is a different world we currently live in, and we should accept that this organization must change to suit contemporary needs."
He reiterated that the UN provides the best vehicle for all nations to address their challenges, adding that Ghana has always made significant contributions to make the organization successful.
"We have embraced the SDGs and integrated the 17 ambitious goals into our national vision and budget. We intend that Ghana will, in July 2019, take her turn to present our Voluntary National Review during the ECOSOC High-Level Political Forum, and we will share our successes and challenges, as well as opportunities for new and continuing partnerships," he said.
President Akufo-Addo revealed that "the stark reality of today is that resolutions, norms and any number of votes in the Security Council and General Assembly mean nothing without the political will to enforce them.
"We are yet to come to terms with what the role of our organization should be. Should it just be a club of nations that exist to look after their own interests? What of its constitution "we the peoples" as declared in its founding document?" he quizzed.