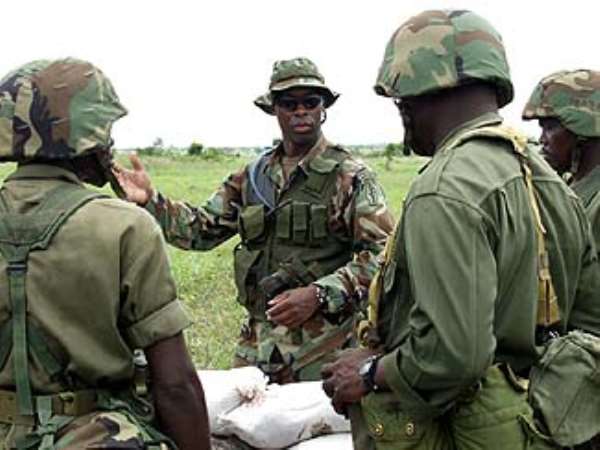 Takoradi, Oct. 21, GNA - A week joint military exercises between the Ghana Armed Forces (GAF) and the North Atlantic Treaty Organisation (NATO) under the West African Training Cruise (WATC) ended in Takoradi on Friday. Contingents of the United States, Spanish and Italian Armed Forces took part in the annual training exercise. The troops conducted amphibious landing on Mankoadze Beach and had training sessions at the Jungle Warfare School at Achiase. Speaking at the closing ceremony of the training programme on board USS Gunston Hall at the Takoradi Port, Rear Admiral Arthur Riby Sampa Nunoo, Chief of Naval Staff, said the exercises would help the GAF to strengthen its peacekeeping role. He said GAF had immense experience in peacekeeping duties and expressed the hope that the United States, Italian and Spanish Military had benefited from Ghana's experience.
Rear Admiral Nunoo said the participation of the Italian and Spanish military for the first time had widened the scope of the training programme to the mutual benefit of all participating countries.Rear Admiral Nunoo commended the US, Italian and Spanish military for undertaking community projects and outreach medical programme during the exercise.
Ms Pamela Ethel Bridgewater, United States Ambassador in Ghana said her country was fortunate to have Ghana as a key partner in West Africa. She said: "It is a rock of stability in a stormy region and Ghana's dedication and willingness to support peacekeeping in its own backyard and throughout the world is very impressive".
Ms Bridgewater said: "We are pleased to be able to work with a professional military committed to a free, democratic society." Mr Jorge Montealegre, Spanish Ambassador in Ghana, said the participation of Spanish troops in the WATC reflected his country's growing interest in Sub-Saharan Africa.
He said the WATC underscored the growing strategic importance of West Africa.
Mr Fabrizio De Agostini, Italian Ambassador in Ghana, said his country believed in international co-operation in defence and peacekeeping. He said Ghanaian and Italian troops had worked together in peacekeeping in countries including Lebanon and Ethiopia. Mr Agostini said the WATC would strengthen the already cordial relations between Ghana and Italy.