History Guides Africa's Economic Ties With China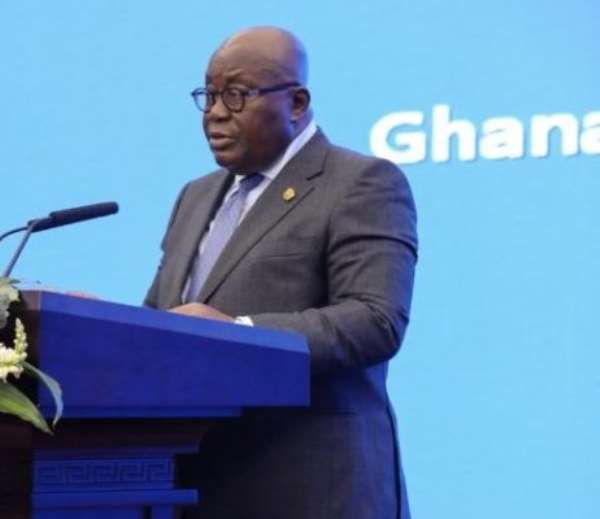 President Nana Addo Dankwa Akufo-Addo Wednesday played down growing anxiety on China's foray into Africa, saying there was history to guide the Continent's dealing with the Asian economic giant.
He said the situation where Ghana, like many countries in Africa, was forging relations with China was 'not a uniquely Ghanaian or African phenomenon', and was not the case that the Continent was being colonized by a new power.
Addressing the 73rd Session of the United Nations General Assembly in New York, the President noted that 'rich and well-established countries have been paying regular visits to China, and seeking to open new economic ties and improve upon existing ones.
'It was at the turn of the 20th century that China's first railways were built by Western companies, financed by Western loans to a nearly bankrupt Qing Dynasty, and it was under those circumstances that a certain strategic port called Hong Kong was leased for 99 years, and the rest as the saying goes, is history,' the President said.
He continued, 'Today, the former victim of Western Railways imperialism is lending billions to countries throughout Asia, Africa and Europe to construct not only railroads, but also highways, ports, power plants and other infrastructure, and many businesses.'
The historical echoes, President Akufo-Addo noted, are worrisome, but was confident that 'we must and can learn from history'.
President Akufo-Addo said that whilst Ghana took steps to educate and train her population, it must at the same time address its infrastructural deficit, noting that, the country needed new ways of resolving those issues, as the traditional methods of tackling them would not provide the answers.
'We, in Ghana, must build roads, bridges, railways, ports, schools, hospitals, and we must create jobs to keep our young people engaged. It is obvious to us that the mode of development trajectory we had been on for many decades is not working. We are trying a different one, and we would appreciate the support and goodwill of the world, especially in helping to stem the huge flow of illicit funds from the continent,' he added.
Stressing that it was in everybody's interest that countries counted amongst the poor of the world make a rapid transformation from poverty to prosperity, the President said ' We are determined in Ghana, and, increasingly, in more and more parts of Africa, to chart our own paths to prosperity, and pay our own way in the world. We are no longer interested in being a burden on others.'
'We will shoulder our own responsibilities and build societies and nations that will be attractive to our youth. We have the necessary sense of enterprise, creativity, innovation and hard work to engineer this transition. Hence, our vision of a Ghana Beyond Aid, indeed, of an Africa Beyond Aid,' he added.
The 73rd UNGA is being held under the theme: 'Making the United Nations Relevant to All People: Global Leadership and Shared Responsibilities for Peaceful, Equitable and Sustainable Societies.'
GNA