HortiFresh Replaces GhanaVeg Programme To Promote Horticulture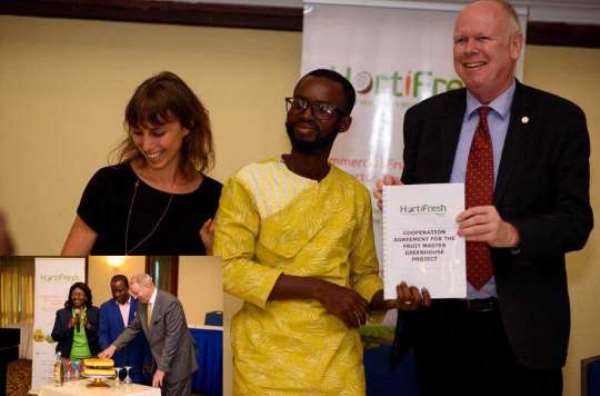 Ghana and Ivory Coast are to experience a major boost in horticultural production and exports, with the launch of the HortiFresh West Africa programme. The program supported by the Embassy of the Kingdom of the Netherlands in Accra, aims at establishing a sustainable and internationally competitive fruit and vegetable sector that contributes to inclusive economic growth, food and nutrition security.
The launch of the programme took place at the La Palm Royal Beach Resort.
At the occasion, the Deputy Minister for Agriculture, Mr. George Oduro and the Netherlands Ambassador to Ghana H.E. Ron Strikker, cut a mango cake to officially launch the programme.
The programme is being implemented by a consortium of Wageningen UR, SNV Ghana, Resilience, Advance Consulting and SENSE.
At the event, Mrs. Sheila Assibey-Yeboah presented the core activities, which include the support for innovative business ideas of small and medium enterprises and the development of strong horticulture clusters in key Tomato, Onion, and Mango production areas. Through these activities, the programme wants to reach at least 15,000 small-holder farmers by 2021, with a 20% increase in their productivity.
A first case in point was presented during the launch; as a Cooperation Agreement was signed between Fruitmaster, Rabobank Foundation and HortiFresh to develop 5,000m2 greenhouse in the Volta region.
In the Cooperation Agreement, the three partners commit themselves to the financing and technical support for quality production of tomatoes, bell peppers and cucumbers for the national market, employing at least 25 new staff that will operate the greenhouse and grading facilities. For HortiFresh and Rabobank Foundation, the pilot forms the start of a longer term partnership, through which a number of of projects, particularly those with an emphasis on small-holder farmers will be supported.
HortiFresh succeeds the GhanaVeg programme which was implemented between 2014 and 2017. The GhanaVeg supported more than 30 innovative projects that were implemented by lead companies.
At the launch, two of the most successful companies, Eden Tree Limited and AB Farms, presented the results of their GhanaVeg projects.
Through the collaboration, both companies were able to double their revenues and work closely with more than 50 outgrowers each.
Also speaking at the function was the Netherlands Ambassador, Ron Strikker. He especially mentioned opportunities that focus on improving food safety for the domestic market, better quality and added value for export markets.
He further called on the financial sector to prioritise the horticulture sector in their loan portfolio; as the programme has identified many reliable companies with profitable business projects.
During the launch, a Call for Concept Notes was announced, inviting small and medium enterprises (SMEs) to submit innovative business ideas that promote the sustainable uptake of inputs like quality seeds and irrigation equipment. The Call also solicits concepts that focus on the provision of agronomic services like professional spray and extension advisory services. The full Call for Concept notes can be found at: www.ghanaveg.org/grants.