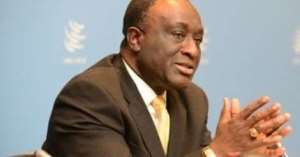 The Trade and Industry Minister Alan Kyerematen has told Ghanaians not to expect an 'overnight' springing up of factories across the country as part of the government's one-district-one-factory initiative.
Mr Kyerematen was speaking at the National Policy Summit in Tamale.
He explained that it takes some time to put up a factory or any sort of building and asked that the government is given time to complete the buildings and equip them.
'For us to appreciate, how long it takes for a factory to be established, my brothers and sisters, if you decided to build your house, a house to accommodate yourself, not a factory how long does it take? Sometimes one year, two years, three years.'
'Even if you have money and you go to a shop that you want to buy a factory, you will not be able to get the factory to buy from the shop; you will have to first have a document that tells you what kind of equipment and machinery, that alone can take probably another six months, for you to build the factory itself it may take another one, one and half year, so please we need a lot of patience,' he added.
The government has so far received over 700 proposals from investors who want to be part of the programme, he said.
The factories, predominantly manufacturing plants, are expected to create at least 5000 jobs across the country.
The programme is essentially a public-private partnership for ensuring the nationwide spread of industrialisation in all 216 districts of Ghana.
According to the secretariat, in 2017 a total of US$3billion has been raised in pledges, signalling strong foreign and local investor confidence in the programme.