The Threat Of Worldwide Ebola Epidemic Starts In Congo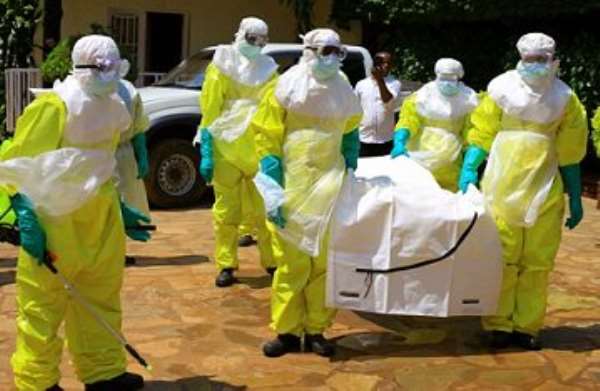 Biological weapon Ebola has descended heavily on Congo
The ongoing Ebola outbreak in the Democratic Republic of Congo is being exacerbated by a deteriorating political situation which has seen warring militias fighting pitched battles, coupled with widespread ignorance, creating the potential for a "perfect storm" which could see the fatal illness spiral out of control, the World Health Organisation (WHO) has warned.
Speaking at a press conference at the WHO's headquarters in Geneva, Switzerland, Dr. Peter Salama said ongoing violent disputed between armed groups, community resistance to the advice of public health officials, and the geographic spread of the disease was making a bad situation worse.
He said: "We are now extremely concerned that several factors may be coming together over the next weeks and months to create a perfect storm.
"A perfect storm active conflict limiting our ability to access civilians, distrust by segments of the community already traumatized by decades of conflict and of murder, driven by a fear of a terrifying disease but also exploited and manipulated by local politicians prior to an election.
"The response is facing a series of grave obstacles.
"The first is insecurity. We have seen an increased frequency and increased severity of attacks by armed opposition groups own recent weeks, particularly attacks by the Alliance for Democratic Forces, but also other armed opposition groups in the picture as well."
Recent weeks had been characterized by attacks which "indiscriminately" targeted civilians, including one which resulted in the deaths of at least 21 people."
To complicate matters, a period of mourning had forced the temporary shutdown of WHO operations in the area.
Problems were being made worse by ignorance about the illness in some areas.
Dr Salama said most of the community was engaging with health workers but said: "We do see really difficult pockets of community reluctance, refusal, and resistance.
"Particularly there has been one in and around Beni in a small village called NDingi which has been responsible for a large proportion of cases in the last few weeks.
"That resistance driven by quite natural fear of this terrifying disease is starting to be exploited by local politicians and we are very concerned in the run-up to the elections projected for December, that that exploitation of this very natural fear will gather momentum and make it even more difficult to root out the last cases of Ebola."
Small numbers of people refusing active-follow-up, refusing to be cared for in the Ebola treatment unit and actively fleeing from the responders into the forests, for hundreds of kilometers in some cases, he said.
He added: "We now have a wide geographical spread of Ebola also into red zones from a security perspective and also into broader areas with surrounding countries such as Uganda."
Mr. Salama added: "I previously described the context for the Ebola outbreak in North Kivu as arguably the most difficult context which has ever faced the WHO and UN system in terms of responding to an Ebola outbreak."
He said the virus was "a frightening pathogen that will exploit these community and political fault lines and will not respect borders."
He added: "We call on all parties and any governments or groups that have influence over these parties to help protect responders and help protect civilians and our access to them, to continue to fund the response, both in North Kivu, but also, and this is increasingly important, in the neighboring provinces, and in surrounding countries, with a priority on Uganda, which is now facing an imminent threat, South Sudan and Burundi.
"We call on those governments in the surrounding countries to accelerate their preparedness and ensure that if as is increasingly possible, this outbreak spreads across international borders, we are all collectively prepared to stop it."
The WHO's warnings echo those of Dr. Inger Damon of the US-based Centre for Disease Control, who told Express.co.uk earlier this month: "Education is key – this is something we find with every outbreak.
"Good engagement with the community is critical.
"If they don't have the right type of information they tend to be very reactive.
Editorial
The World Health Organization now wants the world to believe that the warring militias are responsible for the Ebola epidemic which is out of control in neighboring Congo. But the World Health Organization wouldn't like to inform the world that the US government is responsible for the spread of Ebola, the biological weapon in Congo to depopulate and destabilize the economy of the country to gain the access to country's rich mineral resources.
How long can the world continue to trust and depend on health institutions such as the World Health Organization and the Centers for Disease Control? We continue to use this extraordinary health website to warn everyone about the kind of dangerous world we are living in but people don't want to take us seriously because Ebola is happening in Third World Countries.
However, we will remind everyone that like Aids, Ebola will spread to the four corners of the world, if terrorists get this deadly virus. We are are warning you to be alert for the expectancies.