Fuel Tanker Drivers' Strike Enters Day Two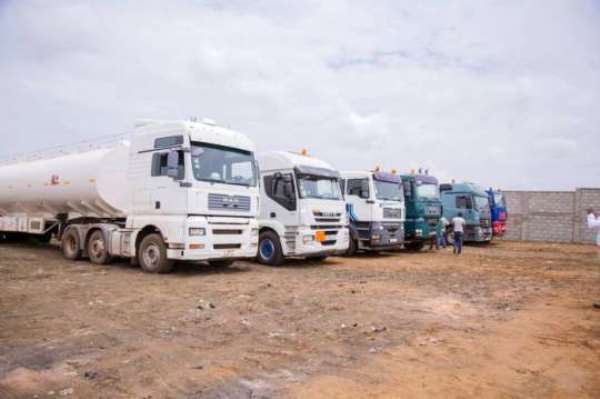 The Fuel Tanker Drivers Association entered the second day of their sit-down strike action in Tema on Tuesday to back their demand for the enforcement of the loading and discharge manual.
Members started the strike on Monday to ensure that the National Petroleum Authority (NPA) ordered Oil Marketing Companies (OMCs) to strictly follow provisions of the manual since non-adherence resulted in pay cuts for them.
According to them, because most operators preferred recording shortages of fuel consignment from the underground tanks, the manual enjoined them to measure shortages in the tank before discharge.
On Monday the drivers refused to load fuel as they converged at the forecourt of the Tema Oil Refinery (TOR) to begin a sit down strike.
In the process, the Police fired tear gas and rubber bullets into the crowd of the protesting drivers injuring some while five of them including their treasurer were arrested.
Deputy Superintendent of Police (DSP) Joseph Benefo Darkwah, Tema Police Regional Public Relations Officer, told the Ghana News Agency that the five arrested on Monday had been granted police enquiry bail.
DSP Darkwah added that the Police would continue to protect TOR until the issue was resolved.
Meanwhile, Mr Felix Mensah Nii Anang-La, Tema Metropolitan Chief Executive, had visited the premises and pleaded with the drivers to call off the strike saying their actions could have adverse effect on all Ghanaians.
Mr Anang-La promised that he would push and plead with relevant authorities to address their issues with urgency while they also resumed work.
Mr George Nyaunu, Chairman, Tanker Drivers Association, said members where law abiding and expected the NPA, OMCs and other stakeholders to stick to the rules.
Mr Nyaunu asked the Police to release three of their members who he said were arrested on Tuesday and the association bus which was in the custody of the law enforcers.
GNA
By Laudia Sawer, GNA