Speaker Warns Police; 'Don't Arrest Any MP Without Informing Me'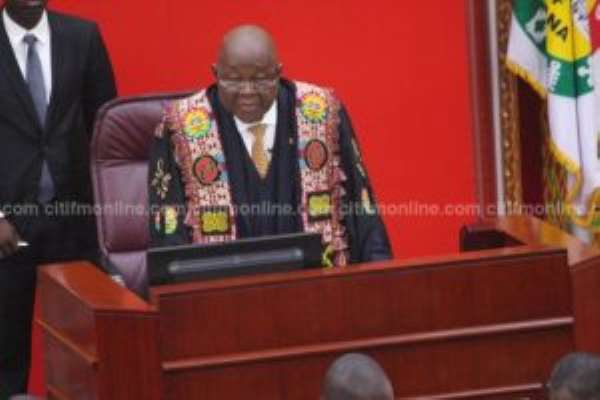 The Speaker of Parliament, Professor Mike Oquaye, has urged the Police administration to desist from its arbitrary attempts to arrest some Members of Parliament without recourse to laid down parliamentary procedure.
The Speaker's remarks follow the reported raiding of the homes of the Asutifi South MP, Collins Dauda in Accra and in his constituency.
He said on the floor of Parliament that the actions of the police were a clear breach of parliamentary immunity.
"We want the security agencies to be mindful of the fact that the police should not invade the premises of a member of Parliament or appear to be doing so in a manner that will raise unnecessary difficulties for us."
Prof. Oquaye stressed that the privileges the legislature enjoys must be respected.
He said MPS are not to be "taken by surprise or not to be treated in a manner that will not be consistent with the dignity that an honorable Member of Parliament should be attended to."
In addition, he urged the police to follow the laid down procedure of inviting MPs to assist in investigations.
"We want to put on record that in future, the leadership of the House and the Speaker of the House should be informed of all such needs so that it can be done with the appropriate decency."
"When any invitation is required, we would like it to be routed properly and the appropriate honorable member will attend to the appropriate invitation at the highest quarters, preferably the Commissioner of Police CID in charge of investigations because monkeys play by sizes. If you want an honorable member of parliament, that will be my barest minimum" he noted.
Minority condemns police raids
The Minority in Parliament has criticized the Inspector General of Police (IGP) over the alleged raid on the residence of the NDC MP.
The Minority Leader, Haruna Iddrisu, addressing the press before the Speaker spoke, said "I want to use this opportunity to call the President and the Minister for Interior and the Inspector General of Police to order, that we are a country governed by law and a country underpinned by the rule of law."
He also said this was an attempt to intimidate the NDC MP.
" He [Dauda] is being intimidated and harassed. The intimidation and harassment must stop… We demand civility and courtesy in these matters," Mr. Iddrisu stated.