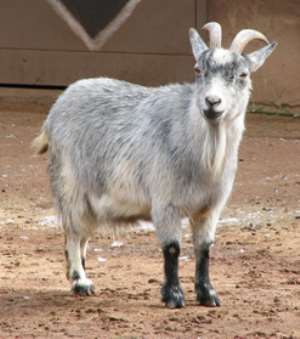 The Assembly Member of Dorimon Electoral Area in Wa West District, has raised eyebrow over a missing goat after an alleged goat thief was arrested and handed over to the security personnel.
The Assemblyman, Mr Ababaasa Olinaa, accused the Dorimon police for failing to deal with the case and several other theft cases brought to them, creating anxiety in the area.
According to him on 12th September 2018 four goats were missing and three of them were found inside the room of a young man (name withheld) but one of the goats was later found being roasted at the police station.
"The goat which the police were roasting bore the same mark as the other one we found in the accused person's room and no explanation or action is being taken on it," he said.
"When the missing goats were found in the accused boy's room, we informed the police for arrest and they came and were talking only about goats, leaving the accused thief,' he added: 'We asked them why, and they told us they would come and arrest the young man later.
Mr Olinaa also alleged that in 2017, the community brought one accused thief with stolen goats and one of the goats got missing at the police station and has not been found since.
He said the people of the area were living in perpetual fear because their lives and properties were at risk due to increasing crimes and weak security.
"Dorimon is a vast area with over 99 communities and the police are only five so we need more police in addition," he said.
The Dorimon Unit Committee Chairman, Mr Kofi Dalugu claimed robbery attacks in the area started swelling up when the police personnel begun familiarize with the young men in town after a long stay.
He noted that criminal activities were not rampant at the time the unit committee was handling and monitoring criminal cases in the town.
"We would be happy if all the old policemen were transferred and new ones brought in to avert the increasing crime rate," he said.
When the Ghana News Agency contacted the Dorimon police on phone to respond to the allegations, an officer said 'the police had nothing to say on the matter'.
Several attempts to reach the Upper West Regional Police Public Relations Officer proved futile.