White Man`s prayer: "Favour, good news." Black Man`s prayer: "Enlighten our leaders."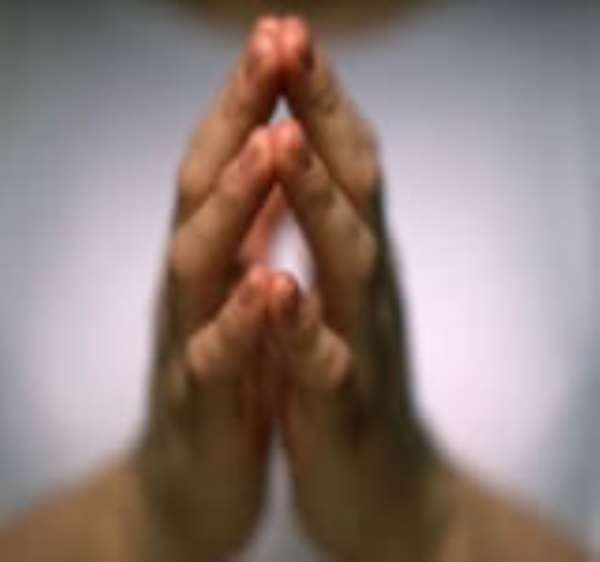 "Charley…oh Charley…you look depressed…what is wrong with you?" asked Kwame Quartey his friend Fred Antwi sitting outside his rented one bedroom apartment located in Jamestown overlooking the Gulf of Genuiea, seeing the young girls playing with broken dolls ready to get married off at the age between 12-19 years.
"Did you not hear?"
"Hear what?" was Kwame Quartey pausing for a second observing a teenage mother surrounded by young boys that should have been in school at this time but tried to win her over to them for their enjoyment. "Yes, I was wondering already why you are here in Accra instead at your workplace at the Akosombo Textile Limited factory producing African print."
"Just few weeks ago 200 or 600 of us workers got laid off and were sent home," said Fred Antwi with tears in his voice. "Once we here in Ghana had 20.000 people employed in the textile industry, now there are only 2000 jobs are left. We had a task force set in motion of 100 Officials to stop the illegal import of fake China African Wax print…instead of helping us…these people protected the Chinese and more fake African print is destroying our economy. But what can we do when we take loan from them…how can we ever believe to stop this selling of our economy to the White people?"
Kwame Quartey looked around seeing in the distance smoke shadowing the beach of Toxic City where kids and Teens burned electric cables from old electric garbage bought from the White Man´s world saying with a loud voice: "Galamsey and the Chinese…we can never stop them…otherwise they will stop us…simple as that. What we do is nice for the camera…but effective? No way!"
Fred Antwi took a deep breath, shock his head while thinking loud: "Ghana depts. stand at 65, 9% to GDP, Cedis is down statically, 7 banks this year alone went out of business, 70% of bank staff want to leave the banking sector due to low payment and poor working conditions, BOST money is where? The Government wants to sell Komenda Sugar Factory to investors…of course White people as only they have the money…ECG will be sold into the hands of Whites also. People say JDM left a legacy behind by creating a new KIA not thinking wisely that it was constructed by borrowed money to be paid back how? For a President it is easy to borrow money, build something that later will collapse again as we do not have maintenance mentality…but what about the financial burden we put on our children and grandchildren…."
"You are talking my friend…for them it is doomsday…their future is already destroyed," was Kwame Quartey swallowing his anger. "It is obvious that we are selling key industries to the White Man…he will take over our banks, our electricity, our water, our industries in time to come…and it is near…to squeeze our Black Politicians…and I mean ALL of them," did he put special emphasis on his words while taking a deep breath of the ocean air knowing the waters were full of plastic and empty of fresh fish, "out of office and take again control over us."
"Honestly speaking…is this not what we really want…60 years after self-destruction?"
"Our leaders do not care about us, only their families and pockets…so shameful!" responded Kwame Quartey making a sign to fight against his own colour. "After World War II Germany was politically and economically in ruins. The influence on foreign powers on their governance and economy was as great as it could have been located close to the former Communists States…yet it took them only 15 years to bounce back and be the richest country in all of Europe. Marshall Plan was helping them…sure…but we have received so much financial support over 60 years and look at us…even Singapore, South-Korea and others are far ahead of us…what a shame!"
"I was reading on social media, Germany first half of this year was making a surplus of Euros 48 Billion…not only having managed the aftermath of the second World War during which a whole generation was not schooling leaving today around 4 Million Analphabets behind, getting only in 1990 their independence, the expensive German reunification and three years ago welcoming 1 Million refugees…all these in the light of no natural resources to fall back too…yet they make so much money…only by using their brains and do the right things."
"I always say, a state with a borrowing mentality has no sense for responsible investment and maintenance completing vicious circles of endless poverty."
Fred Antwi got up, walked in the hot sand with his friend by his side, stood still looking around himself, looked down on the sand, looked up again into the face and deep burdened eyes of Kwame Quartey, taking a deep heavy breath and proclaimed:" This is my country…this is my home…this is my soil…my waters…my air…my past and my identity…but do you know what?"
"What?"
"I do not care who is ruling over me as long as my life and the one of my family is better and better always."
Kwame Quartey took Fred in his arms with tears running down his face.