Danish NGO supports Child devt in Upper West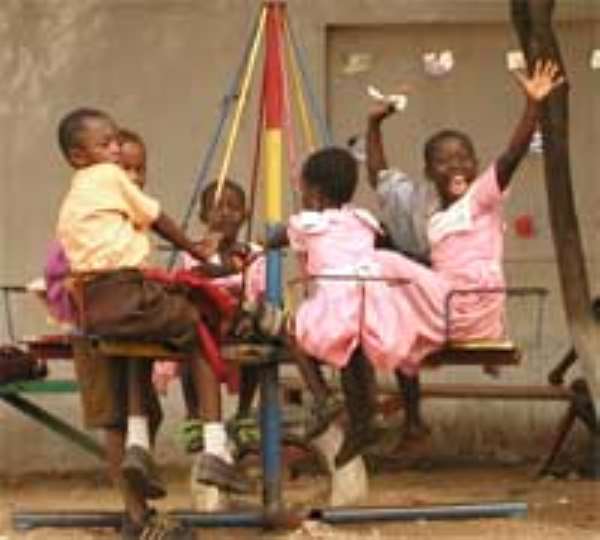 Wa, Oct. 21, GNA - King Kobing District Project, A Danish Non-Governmental Organization, has adopted four Early Childhood Development Centres in Wa for support to improve pre-school education in the Upper West Region.
The Centres that would benefit from an initial amount of 30 million cedis to improve facilities include the Saint Andrews, Kadija, Ahamadiyya and Wa Local Authority Early Childhood Development Centres. Mr George Hikah Benson, Deputy Upper West Regional Minister, stated this when he launched the second phase of the GNAT/Danish Early Childhood Teachers Association and Social Educators (BUPL) Early Childhood Development Project at Wa, on Wednesday. The first phase of the project, was completed in August 2004 on pilot basis in four districts in the country including the Wa Municipality.
Mr Benson said all Primary Schools would soon have Early Childhood Development Centres attached to them to provide good foundation before children start school.
He said that this was the basis of the government's policy of developing the human resource base of the country and called on GNAT and the sponsors to sustain the project to ensure that many children benefited.
Miss Salamatu Mahama, Coordinator of the GNAT/BUPL Early Childhood Development Project, said the first phase created awareness in Childhood development and promoted the professional identity of Early Childhood Educators.
She said the number of children attending Early Childhood Development Centres in the area increased from 7,080 in 2003 to 8,760 in 2004.
Mr Martin Asamannaba, Regional GNAT Secretary, noted that the government now had a policy on pre-school education with guidelines to make incorporate the centres into the Primary School system. He said the project was to facilitate teaching and learning and called on proprietors to improve the quality of the centres.