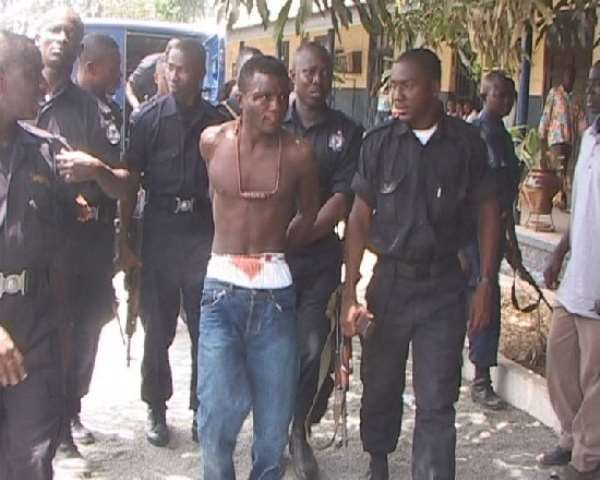 Accra, Oct. 20, GNA - An Accra Fast Track High Court would on October 26 hold a mini-trial conference in a case in which Ayi Aryeetey, aka Ataa Ayi, and eight others are standing trial for robbery. It has, therefore, ordered the Investigator to assemble all independent witnesses for the mini-trial conference.
Most of the accused persons have denied their statements and their lawyers are contending that their clients made those statements under duress.
The accused persons denied the statements after the investigator Detective Inspector Cosmos Ahiakpa had read and tendered them in evidence.
The accused include Nana Yaw Owusu, Yaw Asante Agyekum, Stephen Nyarko, Frederick Lamptey Annan, alias Nunnboe and Kwabla Agbodoga. The others are Samuel Kweku Annan, Raymond Ameh and Nana Osei Razak.
Nana Yaw Osei has pleaded guilty but the rest have pleaded not guilty to conspiracy and robbery.
According to the facts of the case, on February 5, 2003, the accused persons robbed Madam Dora Kumi at Taifa in Accra of 65,000 dollars and 45 million cedis.
Led in evidence by Mr Asiamah Sampong, a State Attorney, Detective Inspector Ahiakpa said on November 20, 2003, while at the Regional Criminal Investigation Department (CID) he was asked to continue with investigations into a robbery case.
During investigations, Nyarko, Agbodoga and the rest of the accused persons were arrested.
Reading their statements most of which were signed and thump printed, the Detective said Nyarko told him that Lamptey, aka Nuumboe, asked him to monitor the complainant, Madam Dora Kumi, and inform him whenever she left Okaishie to her residence at Taifa. Nyarko, the Detective said, received two million cedis from Lamptey, who promised him 4,000 dollars.
Nyarko stated further that he never received anything until he saw Lamptey's pictures in the dailies for robbery.
The Investigator said Agbodoga said he knew Ataa Ayi and Agyekum. He said Agbodoga stated that he only broke into car boots and denied being an armed robber because he feared guns. Detective Inspector Ahiakpa said Agbodoga stated that he was in Togo when he was asked to come to Ghana.
In the case of Samuel Kweku Annan, the Detective said he stated that he was arrested in December 2003.
In Ataa Ayi's statement he stated that it was Nyarko, who gave them information about the complainant.
He said Ataa Ayi stated further that Lamptey gave him 3,000 dollars as his share but he (Ataa Ayi) went into hiding in Nigeria where he spent all his money.
The Detective said Ataa Ayi said it was Nana Yaw Osei, who asked him to join them in the robbery.
In the case of Ameh, the Detective said he admitted the offence and attributed it to the influence of bad friends. Razak in his statement indicated that he had 5,000 dollars as his share but lost it to connection men, who promised to send him abroad.