Vigilantism Will Stop; But Not Anytime Soon!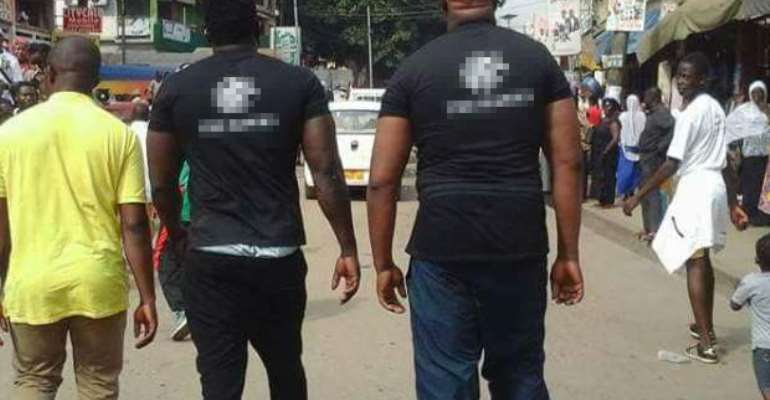 I rarely eat food prepared outside my home. That was how my Mum trained me. Last Sunday was one of the rare occasions.
A friend who had sojourned in Obroniland for close to two decades had returned and decided to give me and other friends a treat. So to the Omo tuo joint we went.
As was common with male groupings, our discussion centred on football, women and politics. I know your rabbit-like ears want more, but my interest for today's piece is on the latter.
The discussion degenerated into Zu-za vrs Osono argument. After losing the corruption and economy argument, the Zu-za folks decided to rely on vigilantism as a last resort. No amount of explanation could convince them that vigilantism did not start under the Nana Dee government. It was their belligerence and selective amnesia that inspired me to write this piece.
Vigilantism in politics is not something we should encourage. It is very bad because not only does it raise the political temperature, but also leads to maiming of people and even death.
In the early days of the 1992 Constitutional era, 'shit-bombing' was the main modus operandi of party vigilante groups. I remember how party offices of political opponents of Zu-za and media houses not aligned to them were 'shit-bombed'. By 'shit-bombing', I mean decorating a place with faecal matter. You can contact Abdul Malik Kwaku Baako, a victim of shit-bombing, if you want to know more!
The actions of political vigilantes went a notch higher to ballot snatching.  Indeed, stories abound on ballot-snatching in the 1992 and 1996 polls.
We also saw how political vigilantes wearing official BNI tags went on a shooting spree against political opponents in Chereponi during a bye-election. The hoodlum is still walking free because he had the emblem of the then ruling Zu-za embossed on his shirt.
Do you remember the Chief Jihadist and his boys? Of course, I do not refer to the likes of Abu Sayaf, Mohammed Atta, Mullah Mohammed  Omar,  Osama Bin Laden and Al-Zawari. Those are 'big boys' who play big games with big and powerful nations like almighty America.
Monkeys play by sizes so the jihadists in this country are 'small boys' when compared to those mentioned above.  But trust me, they too can be deadly.
Perhaps you've forgotten, but I've not. The Akwatia jihadists were the ones who attacked their opponents during a bye-election in Akwatia. They brutalized and maimed their opponents in the name of making the Chief Jihadist win the Akwatia seat.
The actions of the 'Azorka Boys' and the counter-actions of the 'Bamba Boys' in Akwatia are still fresh in our minds. As I write, a female  Zu-za national executive is walking free after driving into a crowd in Atiwa and maiming three people as a result.
Truth be told, the actions of the 'Invisible Forces' in recent times are not shocking. Maybe, the only shocking thing is the brazen nature of attacking judicial officers on a court premises. But is the 2009 Agbogbloshie massacre right under the nose of the police not equally brazen?
The recent unveiling of the 'Hawks' by Zu-za is equally not shocking. I'm sure it is to actualize Mark Woyongo's 'violence begets violence' policy.  So the call by General Mosquito on Osono to disband its vigilante groups is hypocritical, to say the least.
Do I want to see the end of vigilantism on the Ghanaian political terrain? Yes, I do. Indeed, I'm hopeful it will stop one day. But one thing I'm sure of is that it is not going to end anytime soon. After all, violence begets violence. Apologies  to Mark Woyongo!
See you next week for another interesting konkonsa,  Deo volente!