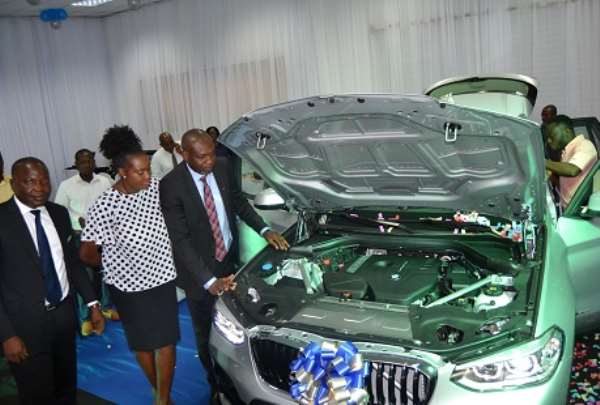 Officials inspecting the BMW X3
Mechanical Lloyd Company Limited, official franchise holders of the BMW brand in Ghana, on Tuesday introduced the all-new BMW X3.
The multifunctional vehicle comes with a standard boot capacity of 550 litres that is extendable to over 1,000 litres.
It has a cruise control device, M Sort suspension, Dynamic Damper control and M Sport Brakes.
Speaking at a short ceremony to launch the vehicle at its showroom at the South Industrial Area, near Kaneshie in Accra recently, Director of Sales and Marketing, Edward Kojo Annobil, expressed optimism the new production line will become a main player in the automobile market.
"As we all know, BMW is committed to setting the standards for the automobile industry, and therefore, ensure that they deliver nothing less than 'sheer driving pleasure'. This is always reflected in their cars and the same applies to the new model that we are unveiling today. This car is a visionary and will command presence on the Ghanaian market. It defines class and will continue to do so for many years to come."
The new model, which is the third generation of the BMW X3, is expected to offer exceptional comfort and extreme flexibility made possible by cutting-edge technology.
"The all-new BMW X3 operates intuitively; specific functions can be operated through BMW voice control, BMW gesture and touch. Swiping or pointing movements controls phone calls. The interior of the new BMW X3 displays unbeatable fit and finish and material quality and is even classier and more luxurious than its predecessor. Comfort levels are further elevated by a host of new equipment options like the ambient air package and active seat ventilation.
"Another new equipment item is the optional BMW display key, which not only locks and unlocks the BMW X3 by radio remote control but also shows a variety of status information on the car and serves as the control unit."
He also added that "its new sharper design featuring the chunky kidney grille will turn heads wherever you go, while you and your passenger blissfully enjoy the utmost luxury and latest innovation inside. But because you are all individuals, the all-new BMW X3 can be specified to meet your exact needs with its x-line, M sports and luxury line trim options."
Kalysta Darko-O'Kell, Managing Director of Mechanical Lloyd Company Limited, averred that the company was established in 1970 and listed on the Ghana Stock Exchange (GSE) in 1994.
According to her, the company has over the years been a benchmark for many industry players in Ghana and the West African sub-region in terms of infrastructure, equipment and staff strength.
"We are happy to have come that far from humble beginnings, winning a number of awards, including Motor Firm of the Year (1993, 1997, 2010, and 2013), Automative and Transportation Sector Awards 2012 and SSNIT Best Employer Award (2005)," he disclosed.