2018 Garden And Flower Show To Champion Green Ghana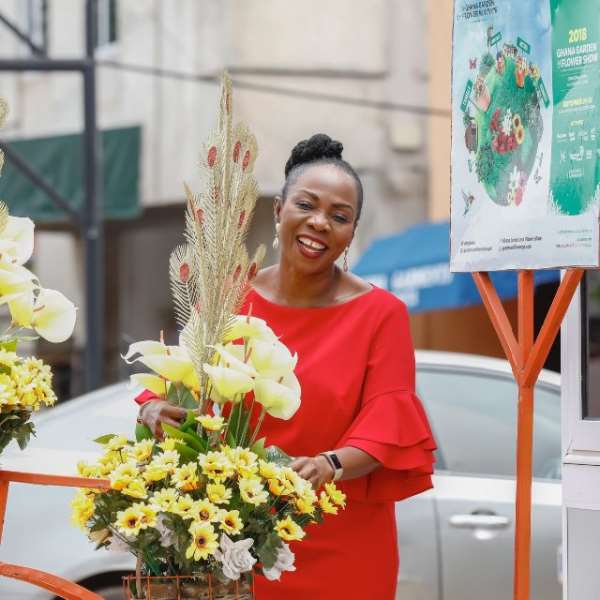 Chief Executive Officer of Stratcomm Africa, Esther A.N Cobbah has underscored the need for everyone to join the climate change campaign.
According to her, addressing climate change and global warming is the responsibility of every individual, and Stratcomm Africa is committed to working with all to grow the movement to help protect planet earth.
Madam Cobbah made the call at the launch of the 6th edition of the Garden and Flower show in Accra. This year's event focuses on creating the awareness on environmental conservation and sanitation.
She noted that, through this initiative, we are also contributing to the realisation of the UN Sustainable Development Goals. We have seen public interest in gardening and flower cultivation growing.
"We also see a growing interest among the youth especially, and for us, this is significant and most exciting", Madam Cobbah added.
Also, Ron Strikker, Ambassador of the Royal Netherlands to Ghana stressd the importance of floriculture and the need for government to invest in the industry.
He indicated that, if much more attention is paid to the industry, it could boost Ghana's economy.
Ambassador Strikker stressed the Netherlands commitment to helping government achieve its Ghana Beyond Aid Agenda.
The Ghana Garden and Flower Show has grown tremendously with over 16,000 participants recorded in 2017 and even more expected this year.
This year, the Movement is directly focusing on individual responsibility for ensuring a Greener and Cleaner Ghana. This is in line with Ghana's green agenda and sanitation program as well as the global effort to address climate change.
It said, contributing to the realization of the UN Sustainable Development Goals (UNSDGs) remained a key focus of the Movement.
Story by Ghana/Myjoyonline.com