Biriwa NVTI Girls' Hostel Fire Affected 240 Students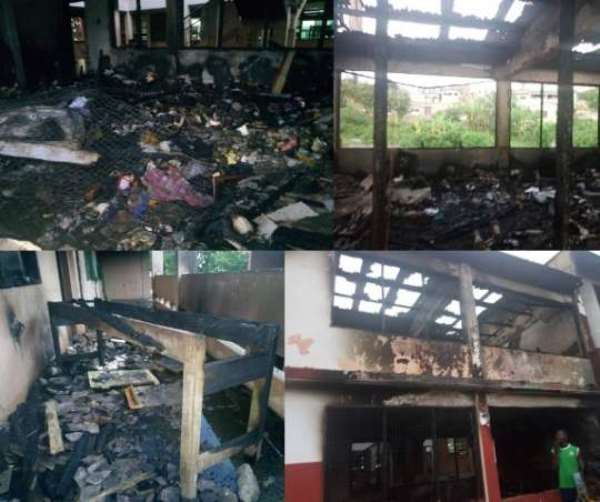 A ravaging fire on Thursday morning swept through most parts of the girls hostel of the Biriwa National Vocational Training Institute and Rehabilitation Center (NVTI) in the Mfantseman Municipality of the Central Region.
The fire consumed many items worth thousands of Cedis including students mattresses, books, beds, cooking utensils and undisclosed sums of money.
In all, about 12 rooms were affected but six rooms were burnt to ashes with over 240 students displaced.
All affected female students have been sent home to return on Saturday, September 29, as stakeholders put measures in place to safeguard their stay.
The cause of the fire was not immediately known but the Ghana National Fire Service (GNFS) and school authorities have began investigations to establish it.
There was no death but four female students who could not comprehend the rate of devastation and heat emanating from the inferno collapsed and were rushed to Anomabo hospital for medical attention and later discharged.
Some male students who initially battled the fire in the absence of the GNFS sustained various degrees of injuries as others wailed in disbelief and utmost shock.
When the Ghana New Agency arrived at the scene, scores of affected students were seen gathering the debris of the burnt items as they counted their losses.
Briefing the GNA, Mrs Regina Lartey, a Senior House Mistress, said the fire started around 0930 hours when classes were in session.
She said an eyewitness observed that thick smoke has enveloped parts of the building affecting visibility in the area and raised the alarm.
Authorities at the school immediately alerted the Ghana National Fire Service (GNFS) who turned up after half an hour.
The delayed response from the GNFS according to her did not help matters as the fire which started from one of the rooms spread to other rooms as they tried in vain to use unconventional means to put out the fire.
She urged parents and students to exercise patience with school authorities as they work out solutions to the accommodation problem.
Some affected students who pleaded anonymity blamed the fire outbreak on the look-warm attitude of school authorities to find lasting solution to faulty electrical cables in the facility.
"We have complained times to school authorities about the unstable power supply, fluctuations in current, aged wires and electrical cables but have they have failed to fix them."
They also complained about lack of fire extinguishers and strict adherence to fire safety precautions and regulations that guaranteed lives and property.
The students appealed to all public-spirited organisations and individuals to come to their aid of the institution to rebuild the block.
Madam Gladys Mensah, a parent who had visited the school upon hearing the news suggested to the school authorities to counsel the victims to give them sound minds for their academic activities.
Meanwhile some of the students said they have lost their school fees and pocket monies in the fire.